"Carnivals of Violence: Mob Rule in New Orleans" with Justin Nystrom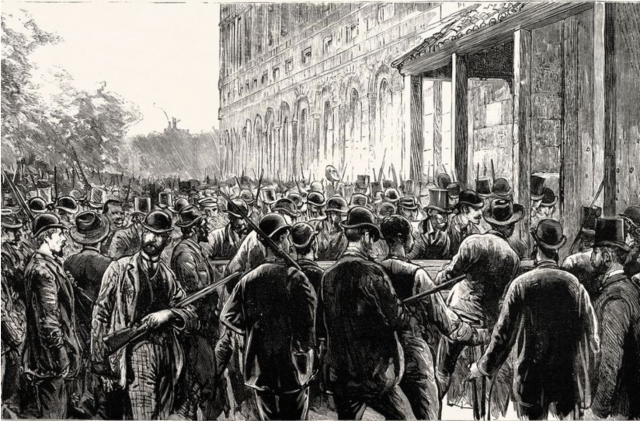 The Cabildo
Greater New Orleans
New Orleans
Event Date
:
Thursday, March 11, 2021
In this talk, Justin Nystrom will explore the deep roots of mob violence in New Orleans from its antebellum origins in the Know-Nothing riots of the 1850s to the many street battles of Reconstruction, the lynching of Sicilians in 1891, the racial violence of the 1900 Robert Charles riot, and the standoff between Longite and Anti-Long forces in the 1920s. He will discuss commonalities among these events to better understand the nonaccidental relationship between extralegal group violence and social and political authority in New Orleans.
This program sponsored by Friends of the Cabildo as part of the Second Thursday Lecture Series. It is free and open to the public, but registration is required. The program will take place on Zoom at 6 p.m. Please register here: https://forms.gle/tB5vg1YzJzLG29aA6.
About the Speaker
Justin A. Nystrom is the Rev. James J. Pillar, O.M.I. Distinguished Professor in the History Department at Loyola University New Orleans. He is the author of New Orleans after the Civil War: Race, Politics, and a New Birth of Freedom (Johns Hopkins, 2010) and  Creole Italian: Sicilian Immigrants and the Shaping of New Orleans Food Culture (Univ. of Georgia Press, 2018), which was nominated for a 2019 James Beard Foundation Award in the Scholarship and Reference category. He has published extensively about the history of New Orleans and the South on topics ranging from the Civil War and Reconstruction, racial identity, labor history, foodways, and cultural history. Nystrom also produces documentary films, including a feature- length film, This Haus of Memories (2012). Nystrom is working on a new project exploring the 1980s transformation of the way America eats and also on a longer-term effort looking at craft food production in Brexit-era Britain.
Nystrom received his history MA in 2000 and PhD in 2004 from the University of Georgia. He has held teaching positions in the history departments of Georgia Southern University, Virginia Tech, and the University of North Carolina at Greensboro, and in the history and southern studies departments at the University of Mississippi.
 
Cover Image: Illustration of the lynchers breaking into the prison in 1891 (Photo by: Universal History Archive/UIG via Getty Images)