The Ballad of Robert Charles: Searching for the New Orleans Riot of 1900  with K. Stephen Prince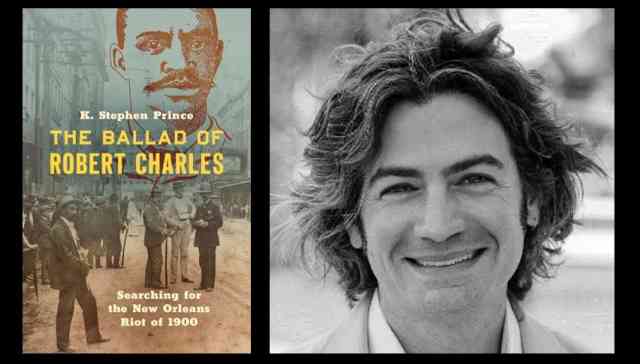 The Cabildo
Greater New Orleans
New Orleans
Event Date
:
Thursday, June 10, 2021
Join us online Thursday at 6:00 p.m. CDT for an evening with author K. Stephen Prince as he explores the legacy of the Robert Charles riots of 1900. This program is sponsored by the Friends of the Cabildo as part of the Second Thursday Lecture Series. It is free and open to the public, but registration is required. The program will take place on Zoom. Please register here: https://forms.gle/tYMC65FuwfayjBB76
About the Book
For a brief moment in the summer of 1900, Robert Charles was arguably the most infamous black man in the United States. After an altercation with police on a New Orleans street, Charles killed two police officers and fled. During a manhunt that extended for days, violent white mobs roamed the city, assaulting African Americans and killing at least half a dozen. When authorities located Charles, he held off a crowd of thousands for hours before being shot to death. The notorious episode was reported nationwide; years later, fabled jazz pianist Jelly Roll Morton recalled memorializing Charles in song. Yet today, Charles is almost entirely invisible in the traditional historical record. So who was Robert Charles, really? An outlaw? A black freedom fighter? And how can we reconstruct his story?
In this fascinating work, K. Stephen Prince sheds fresh light on both the history of the Robert Charles riots and the practice of history-writing itself. He reveals evidence of intentional erasures, both in the ways the riot and its aftermath were chronicled and in the ways stories were silenced or purposefully obscured. But Prince also excavates long-hidden facts from the narratives passed down by white and black New Orleanians over more than a century. In so doing, he probes the possibilities and limitations of the historical imagination.
About the Author
K. Stephen Prince is a historian of the nineteenth and twentieth century United States, with a focus on the culture, society, and politics of the U.S. South and an associate professor of history at the University of South Florida. He is also author of Stories of the South: Race and the Reconstruction of Southern Identity, 1865-1915.