Bulldozed and Betrayed: Louisiana and the Stolen Elections of 1876 with Adam Fairclough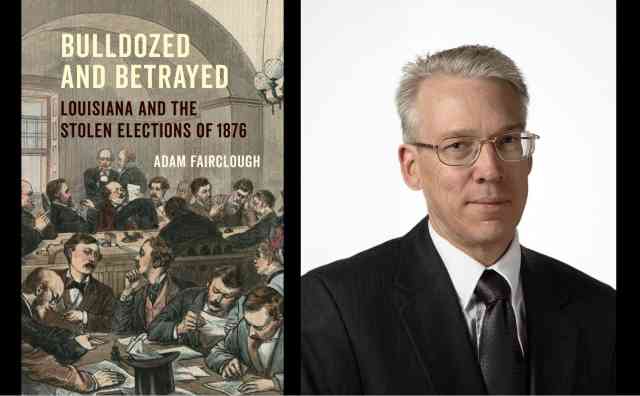 The Cabildo
Greater New Orleans
New Orleans
Event Date
:
Thursday, October 14, 2021
Join us for an evening with Adam Fairclough as he discusses his new book, State of Disaster: A Bulldozed and Betrayed: Louisiana and the Stolen Elections of 1876 (LSU Press, 2021). This program is sponsored by the Friends of the Cabildo as part of the Second Thursday Lecture Series. It is free and open to the public, but registration is required. The program will take place on Zoom on Thursday, October 14, 2021, 6:00 – 7:30 p.m. CDT. Please register here:  https://forms.gle/mbzfNhmMzUXKr3An7
About the Book
Prior to the 2020 presidential election, historians considered the disputed 1876 contest—which pitted Republican Rutherford B. Hayes against Democrat Samuel J. Tilden—the most controversial in American history. Examining the work and conclusions of the Potter Committee, the congressional body tasked with investigating the vote, Adam Fairclough's Bulldozed and Betrayed: Louisiana and the Stolen Elections of 1876 sheds new light on the events surrounding the electoral crisis, especially those that occurred in Louisiana, a state singled out for voter intimidation and rampant fraud.
The Potter Committee's inquiry led to embarrassment for Democrats, uncovering an array of bribes, forgeries, and even coded telegrams showing that the Tilden campaign had attempted to buy the presidency. Testimony also exposed the treachery of Hayes, who, once installed in the White House, permitted insurrectionary Democrats to overthrow the Republican government in Louisiana that had risen to power during the early days of Reconstruction.
About the Author
Adam Fairclough is professor emeritus of American history at Leiden University in the Netherlands. He is the author of numerous books, including Race and Democracy: The Civil Rights Struggle in Louisiana, 1915-1972.