The Changing Geographies of New Orleans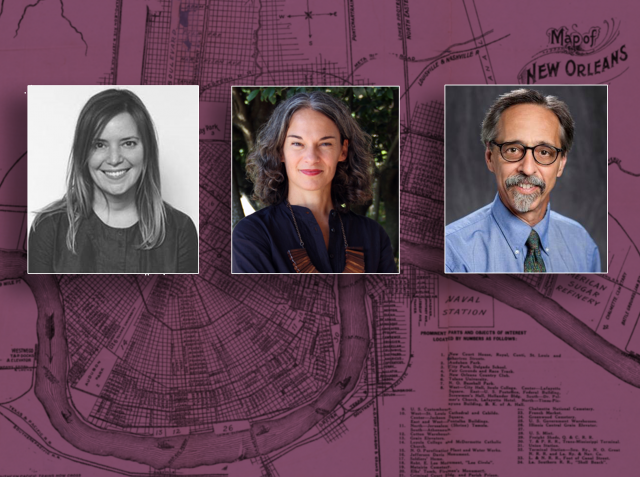 The Cabildo
Greater New Orleans
New Orleans
Event Date
:
Tuesday, January 22, 2019
Join us Tuesday from 6 to 8 p.m. for a discussion about the ever-changing landscape of New Orleans and the ways in which our lives have shaped and been shaped by the city's unique topography. Panelists Rebecca Snedeker, Craig Colten, and Claire Anderson, along with moderator and Museum Historian Karen Leathem, will explore our growing understanding of the land in Southern Louisiana and new approaches to living in this unique landscape.
This program is offered in conjunction with the museum's current exhibition Mapping the Crescent, which examines the city's dynamic geography through historic maps and a large-scale topographical map animated by projections designed by Richard Campanella.  This program is free and open to the public. 
About the Panelists:
Rebecca Snedeker is the James H. Clark Executive Director of the New Orleans Center for the Gulf South at Tulane University, which supports research, teaching and community engagement that focus on New Orleans and the Gulf South and explore the region's place in the world. The center sponsors conferences, public programming, and service-learning courses, and awards fellowships to Tulane faculty and to external scholars and artists.  Prior to this position, Snedeker cultivated a body of narrative work as a filmmaker, visual artist, and writer. She co-authored Unfathomable City: A New Orleans Atlas (University of California Press, 2013) with Rebecca Solnit and produced several feature documentary films, including Land of Opportunity (ARTE France, 2010), Witness: Katrina (National Geographic Channel, 2010), and By Invitation Only (PBS, 2007). She graduated from Wesleyan University and is the recipient of an Emmy Award and grants from the National Endowment for the Arts and the National Endowment for the Humanities.
Craig Colten is the Carl O. Sauer Professor of geography at Louisiana State University. For much of the past 18 years he has focused his attention on how people in Louisiana's coastal region have coped with hazards, their resilience in the face of multiple disasters, and their long-term adaptations to environmental change.  His books include the award winning Unnatural Metropolis: Wresting New Orleans from Nature (2005), along with Perilous Place, Powerful Storms: Hurricane Protection in Coastal Louisiana (2009), and Southern Waters: The Limits to Abundance (2014).  He served as the Director of Human Dimensions at the Water Institute of the Gulf, Editor of the Geographical Review, and is a Fellow of the American Association of Geographers. He recently launched the Human Coast Initiative at LSU which seeks to insert people into the discussion about the state's imperiled coast.
Claire Anderson is executive director and co-founder of Ripple Effect. She is passionate about bringing powerful and relevant water literacy education to students and teachers nationwide. As a teacher who spent seven years teaching in New Orleans public schools, she is acutely aware of the challenges and joys of teaching in high-stakes educational environments. And as a co-founder of Ripple Effect, she has years of experience in working with educators, scientists, and community members to design transformational learning experiences. As Executive Director, Claire ensures that Ripple Effect is constantly building toward our mission and vision for in-depth water literacy education through science curriculum, creative public engagement, and ongoing research into best practices in teaching and curriculum design. In addition to teaching elementary math and science at KIPP Central City Primary School for 7 years, Claire was a Curriculum Fellow for KIPP New Orleans. Her curriculum work includes yearlong curriculum for elementary mathematics and science (aligned to the Common Core and Next Generation Science Standards), as well as water literacy curriculum for Ripple Effect and Station 15, a documentary film about New Orleans water issues.