Creole Genealogies: Critical Histories and Art Practices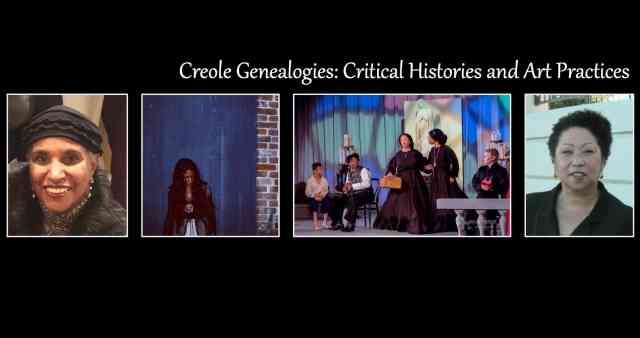 The Cabildo
Greater New Orleans
New Orleans
Event Date
:
Thursday, August 20, 2020
In conjunction with current exhibition Le Kèr Creole (The Creole Heart): Runaway Slaves, Music, and Memory in Louisiana, cocurator Rachel Breunlin will host a virtual evening of art, music, and poetry with artists and scholars. Panelists will discuss how they have used their research on Louisiana Creole language and culture to shape their art and support racial justice. This event will be hosted on Zoom from 6:30 to 8:00 p.m. This event is also free and open to the public, but advanced registration is required. Please register here!
Le Kèr Creole is currently on display at the Cabildo and closes on September 13, 2020.
Panelists:
Kristina Kay Robinson, Artist, Curator, and Writer, "Republica: Temple of Light and Sound"
Mona Lisa Saloy, Poet, Folklorist, and Professor of Creative Writing at Dillard University
Connie Dorsey Abdul Salaam, Curator and History Professor at Southern University at New Orleans
Givonna Joseph and Aria Mason, Cofounders of OperaCréole
About the Panelists:
Writer, curator, and visual artist Kristina Kay Robinson was born and raised in New Orleans. Her ongoing installation and performance art project, "Republica: Temple of Color and Sound," has been presented at Miami Art Week's "Welcome to the Afrofuture"; the New Museum's residency program, IdeasCity; and the New Orleans African American Museum. Robinson is editor of "Room 220," an Antenna Gallery online arts journal and New Orleans editor-at-large for the Atlanta-based "Burnaway" magazine.
Mona Lisa Saloy, Ph.D., is an award-winning author, folklorist, educator, and scholar of Creole culture. Currently Conrad N. Hilton Endowed Professor of English at Dillard University, Saloy has documented the importance of play in Creole culture through sidewalk songs, jump-rope rhymes, and clap-hand games. Her first book of poetry, "Red Beans & Ricely Yours," won the T. S. Eliot Prize and the PEN/Oakland Josephine Miles Award. Saloy's collection of poems "Second Line Home" captures day-to-day New Orleans speech and family dynamics as it celebrates New Orleans.
Connie Dorsey Abdul-Salaam is a curator, oral historian, and assistant professor of history at Southern University at New Orleans. Her research and curatorial projects are grounded in public history and the art and body adornment of West Africa and the African diaspora. In 2018, she curated the exhibition "Reclaiming Our Heritage: Traditional West African Coiffure." Her current work is Pontchartrain Park Pioneers, an oral history project focused on the first African American planned community in New Orleans.
OperaCréole, founded in 2011 by Givonna Joseph and her daughter, Aria Mason, is dedicated to researching and performing lost or rarely performed works by composers of African descent. The award-winning nonprofit company focuses on works by nineteenth-century New Orleans free composers of color and the preservation and promotion of Creole language and culture. Joseph's research has been featured in the "New Yorker" and "Southern Living" magazine as well as on NPR.