Cruising for Conspirators: How a New Orleans D.A. Prosecuted the Kennedy Assassination as a Sex Crime with Alecia P. Long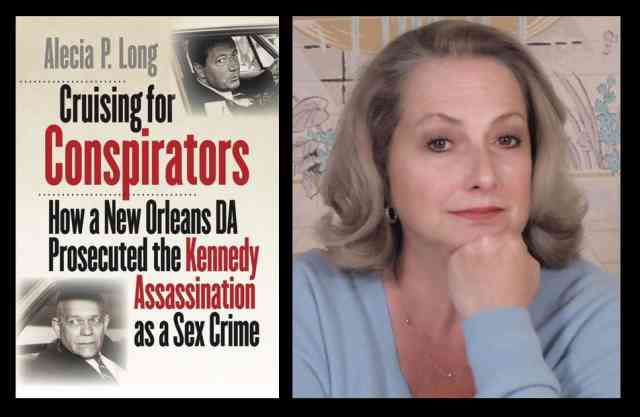 The Cabildo
Greater New Orleans
New Orleans
Event Date
:
Thursday, December 9, 2021
Join us for an evening with Alecia P. Long as she discusses her new book Cruising for Conspirators: How a New Orleans D.A. Prosecuted the Kennedy Assassination as a Sex Crime (UNC Press, 2021). This program is sponsored by the Friends of the Cabildo as part of the Second Thursday Lecture Series. It is free and open to the public, but registration is required. The program will take place on Zoom on Thursday, December 9, 2021, 6:00 – 7:30 p.m. CST. Please register here: https://forms.gle/REzFjxKLSouM1yZ6A
About the Book
New Orleans district attorney Jim Garrison's decision to arrest Clay Shaw on March 1, 1967, set off a chain of events that culminated in the only prosecution undertaken in the assassination of John F. Kennedy. In the decades since Garrison captured headlines with this high-profile legal spectacle, historians, conspiracy advocates, and Hollywood directors alike have fixated on how a New Orleans–based assassination conspiracy might have worked. Cruising for Conspirators settles the debate for good, conclusively showing that the Shaw prosecution was not based in fact but was a product of the criminal justice system's long-standing preoccupation with homosexuality.  
Tapping into the public's willingness to take seriously conspiratorial explanations of the Kennedy assassination, Garrison drew on the copious files the New Orleans police had accumulated as they surveilled, harassed, and arrested increasingly large numbers of gay men in the early 1960s. He blended unfounded accusations with homophobia to produce a salacious story of a New Orleans–based scheme to assassinate JFK that would become a national phenomenon.
At once a dramatic courtroom narrative and a deeper meditation on the enduring power of homophobia, Cruising for Conspirators shows how the same dynamics that promoted Garrison's unjust prosecution continue to inform conspiratorial thinking to this day.
About the Author
Alecia P. Long is the John L. Loos and Paul W. and Nancy Murrill Professor in the Department of History at Louisiana State University. She teaches courses on several aspects of Louisiana History and is the author of The Great Southern Babylon: Sex, Race, and Respectability in New Orleans, 1865-1920 (2004) and co-editor with LeeAnn Whites of Occupied Women: Gender, Military Occupation and the American Civil War (2009).