Desire and Disaster in New Orleans with Lynnell L. Thomas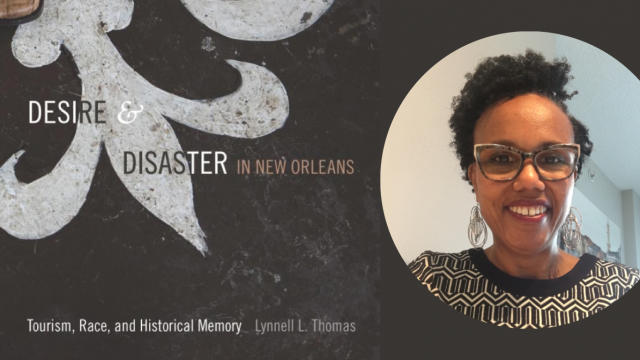 The Cabildo
Greater New Orleans
New Orleans
Event Date
:
Thursday, December 10, 2020
For the December Second Thursday Lecture, hosted by Friends of the Cabildo and Louisiana State Museum, author Lynnell L. Thomas will be speaking on her recent book, "Desire and Disaster in New Orleans: Tourism, Race, and Historical Memory," as well as her current project, "A People's Guide to New Orleans."
This event will take place on Zoom. It is free and open to the public, but registration is required. Please register here: https://forms.gle/QenZSUVHoy4TtGAe6
About the Book
Most of the narratives packaged for New Orleans's many tourists cultivate a desire for black culture—jazz, cuisine, dance—while simultaneously targeting black people and their communities as sources and sites of political, social, and natural disaster. In this timely book, the Americanist and New Orleans native Lynnell L. Thomas delves into the relationship between tourism, cultural production, and racial politics. She carefully interprets the racial narratives embedded in tourism websites, travel guides, business periodicals, and newspapers; the thoughts of tour guides and owners; and the stories told on bus and walking tours as they were conducted both before and after Katrina. She describes how, with varying degrees of success, African American tour guides, tour owners, and tourism industry officials have used their own black heritage tours and tourism-focused businesses to challenge exclusionary tourist representations. Taking readers from the Lower Ninth Ward to the White House, Thomas highlights the ways that popular culture and public policy converge to create a mythology of racial harmony that masks a long history of racial inequality and structural inequity.
About the Author
Lynnell L. Thomas is an associate professor of American Studies at the University of Massachusetts Boston. Thomas received her doctorate from the Graduate Institute of the Liberal Arts at Emory University. She is the author of "Desire and Disaster in New Orleans: Tourism, Race, and Historical Memory" (Duke University Press, 2014). Her scholarship has been published in the journals American Quarterly, The Black Scholar, Journal of African American History, Journal of Tourism History, Performance Research, Television and New Media, and in the edited volumes HBO's Treme and "Post-Katrina Catharsis: The Mediated Rebirth of New Orleans." (Eds. Dominique Gendrin, Catherine Dessinges, and Shearon Roberts, Lexington Press, 2017), "In the Wake of Hurricane Katrina: New Paradigms and Social Visions." (Ed. Clyde Woods Johns Hopkins Press, 2010) and "Seeking Higher Ground: The Race, Public Policy, and Hurricane Katrina Reader." (Eds. Manning Marable and Kristen Clarke, Palgrave Macmillan, 2007). Her current project, with co-author Elizabeth Steeby, is a social justice tour guide "A People's Guide to New Orleans."