Escape to the City: Fugitive Slaves in the Antebellum Urban South with Viola Franziska Müller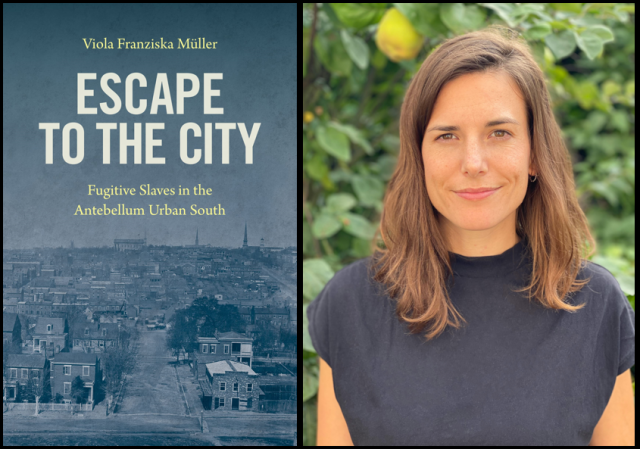 The Cabildo
Greater New Orleans
New Orleans
Event Date
:
Thursday, October 13, 2022
Join us for an evening with Viola Franziska Müller as she discusses her new book, Escape to the City: Fugitive Slaves in the Antebellum Urban South (UNC Press, 2022). This program is sponsored by the Friends of the Cabildo as part of the Second Thursday Lecture Series. It is free and open to the public, but registration is required. The program will take place on Zoom on Thursday, October 13, 2022, 6:00–7:30 p.m. CDT. Please register here: https://forms.gle/kR7aU1gHdZCjSACi6
About the Book
Viola Franziska Müller examines runaways who camouflaged themselves among the free Black populations in Baltimore, Charleston, New Orleans, and Richmond. In the urban South, they found shelter, work, and other survival networks that enabled them to live in slaveholding territory, shielded and supported by their host communities in an act of collective resistance to slavery. While all fugitives risked their lives to escape slavery, those who fled to southern cities were perhaps the most vulnerable of all. Not dissimilar to modern-day refugees and illegal migrants, runaway slaves who sought refuge in the urban South were antebellum America's undocumented people, forging lives free from bondage but without the legal status of freedpeople. Spanning from the 1810s to the start of the Civil War, Müller reveals how urbanization, work opportunities, and the interconnectedness of free and enslaved Black people in each city determined how successfully runaways could remain invisible to authorities.
About the Author
Viola Franziska Müller is a historian at the Bonn Center for Dependency and Slavery Studies at University of Bonn, Germany. She received her PhD from Leiden University, the Netherlands, in 2020. Studying the history of US slavery and free people of African descent from Europe, she is particularly interested in the legacies of slavery and the trajectories of racism.