Folklore Figures of French and Creole Louisiana with Nathan Rabalais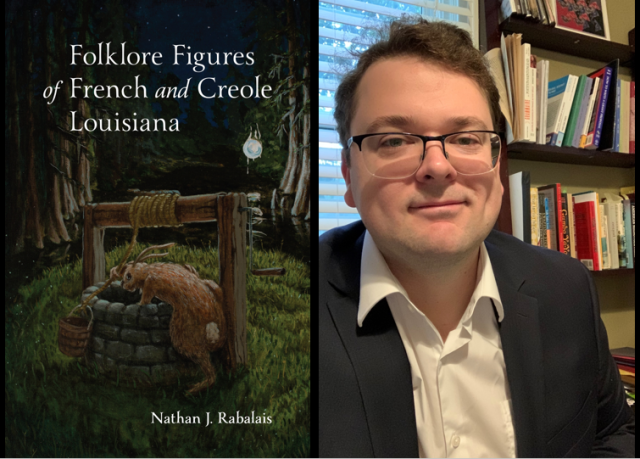 The Cabildo
Greater New Orleans
New Orleans
Event Date
:
Thursday, June 9, 2022
Join us for an evening with Nathan Rabalais as he discusses his recent book, Folklore Figures of French and Creole Louisiana (LSU Press, 2021). This program is sponsored by the Friends of the Cabildo as part of the Second Thursday Lecture Series. It is free and open to the public, but registration is required. The program will take place on Zoom on Thursday, June 9, 2022, 6:00–7:30 p.m. CDT. Please register here!
About the Book
In Folklore Figures of French and Creole Louisiana, Nathan J. Rabalais examines the impact of Louisiana's remarkably diverse cultural and ethnic groups on folklore characters and motifs during the eighteenth and nineteenth centuries. Establishing connections between Louisiana and France, West Africa, Canada, and the Antilles, Rabalais explores how folk characters, motifs, and morals adapted to their new contexts in Louisiana. By viewing the state's folklore in the light of its immigration history, he demonstrates how folktales can serve as indicators of sociocultural adaptation as well as contact among cultural communities. In particular, he examines the ways in which collective traumas experienced by Louisiana's major ethnic groups—slavery, the grand dérangement, and linguistic discrimination—resulted in fundamental changes in these folktales in relation to their European and African counterparts.
About the Author
Nathan Rabalais is the Joseph P. Montiel Endowed Professor of Francophone Studies at the University of Louisiana at Lafayette. He specializes in the folklore, literature, and popular culture of French-speaking North America, particularly in Louisiana and Acadian communities of maritime Canada. He also currently serves as a Research Fellow at the Center for Louisiana Studies. His most recent articles and feature-length documentary Finding Cajun (2019) focus on the intersection of language and identity in Louisiana and the Acadian diaspora. Also active in creative writing, his poetry can be found in a number of literary journals as well as in his book of poetry, Le Hantage: un ouvrage de souvenance (2018) with Éditions Tintamarre. This most recent book, Folklore Figures of French and Creole Louisiana published by LSU Press in 2021, was made possible by a twelve-month research fellowship from the National Endowment for the Humanities.