French on Shifting Ground: Cultural and Coastal Erosion in South Louisiana with Nathalie Dajko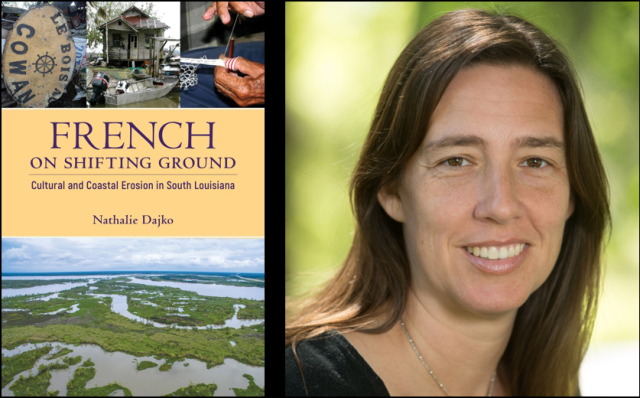 The Cabildo
Greater New Orleans
New Orleans
Event Date
:
Thursday, March 10, 2022
Join us for an evening with Nathalie Dajko as she discusses her recent book, French on Shifting Ground: Cultural and Coastal Erosion in South Louisiana (University Press of Mississippi, 2020). This program is sponsored by the Friends of the Cabildo as part of the Second Thursday Lecture Series. It is free and open to the public, but registration is required. The program will take place on Zoom on Thursday, March 10, 2022, 6:00–7:30 p.m. CST. Please register here: https://forms.gle/DmYBYhd5pTqEYtTo6
About the Book
In French on Shifting Ground: Cultural and Coastal Erosion in South Louisiana, Nathalie Dajko introduces readers to the lower Lafourche Basin in Louisiana, where the land, a language, and a way of life are at risk due to climate change, environmental disaster, and coastal erosion. Louisiana French is endangered all around the state, but in the lower Lafourche Basin the shift to English is accompanied by the equally rapid disappearance of the land on which its speakers live.
French on Shifting Ground captures the richness and diversity of the French language in Louisiana and serves as a reminder that the state is a prime repository for Native and heritage languages, ranking among the strongest preservation regions in the southern and eastern US. Nathalie Dajko outlines the development of French in the region, highlighting the features that make it unique in the world and including the first published comparison of the way it is spoken by the local American Indian and Cajun populations.
She then weaves together evidence from multiple lines of linguistic research, years of extensive participant observation, and personal narratives from the residents to illustrate how language—in this case French—is as fundamental to the creation of place as the physical landscape. It is a story at once scholarly and personal: the loss of the land and the concomitant loss of the language have implications for the academic community as well as for the people whose cultures—and identities—are literally at stake.
About the Author
Nathalie Dajko is associate professor of anthropology at Tulane University in New Orleans, where she studies Louisiana's French and English varieties. She has published in the Journal of Linguistic Anthropology, Language in Society, and several edited volumes, in both French and English. She is author of French on Shifting Ground: Cultural and Coastal Erosion in South Louisiana and coeditor (with Shana Walton) of Language in Louisiana: Community and Culture, both published by University Press of Mississippi.