Last Stand of the Louisiana Shrimpers with Emma X Lirette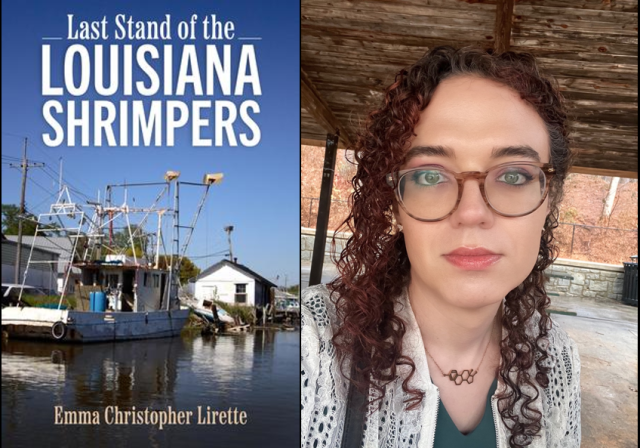 The Cabildo
New Orleans
Event Date
:
Thursday, March 9, 2023
Join us for an evening with Emma X Lirette as she discusses her new book, Last Stand of the Louisiana Shrimpers (University Press of Mississippi, 2022). This program is sponsored by the Friends of the Cabildo as part of the Second Thursday Lecture Series. It is free and open to the public, but registration is required. The program will take place on Zoom on Thursday, March 9, 2023, 6:00–7:30 p.m. CST. Please register here!
About the Book
In recent years, shrimpers on the Louisiana coast have faced historically dire shrimp seasons, with the price of shrimp barely high enough to justify trawling. Yet many of them wouldn't consider leaving shrimping behind, despite having transferrable skills that could land them jobs in the oil and gas industry. Since 2001, shrimpers have encountered increasing challenges to their trade: an influx of shrimp from southeast Asia, several traumatic hurricane seasons, and the largest oil spill at sea in American history.
In Last Stand of the Louisiana Shrimpers, author Emma X Lirette traces how Louisiana Gulf Coast shrimpers negotiate land and blood, sea and freedom, and economic security and networks of control. This book explores what ties shrimpers to their boats and nets. Despite feeling trapped by finances and circumstances, they have created a world in which they have agency.
Lirette provides a richly textured view of the shrimpers of Terrebonne Parish, Louisiana, calling upon ethnographic fieldwork, archival research, interdisciplinary scholarship, and critical theory. With evocative, lyrical prose, she argues that in persisting to trawl in places that increasingly restrict their way of life, shrimpers build fragile, quietly defiant worlds, adapting to a constantly changing environment. In these flickering worlds, shrimpers reimagine what it means to work and make a living.
About the Author
Emma X Lirette is a writer and researcher in Atlanta. Her poetry has been published in Prismatica, Drunken Boat, jubilat, PANK, The Southern Review, and other journals She holds an MFA and a PhD and taught at Cornell and Emory before transitioning to work in social media in the creator space. She lives with her partners and children in Atlanta.