Political Animal: The Life and Times of Stewart Butler with Frank Perez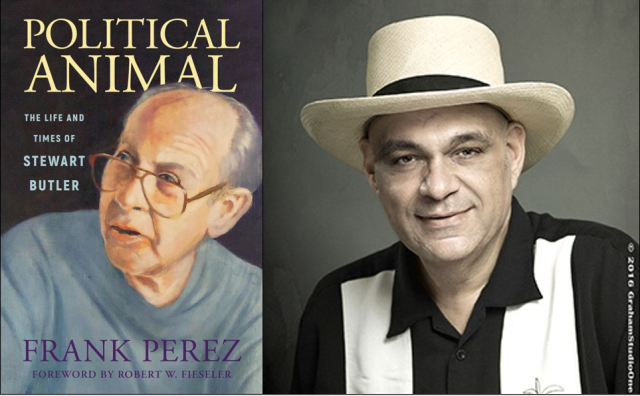 The Cabildo
Greater New Orleans
New Orleans
Event Date
:
Thursday, February 9, 2023
Join us for an evening with Frank Perez as he discusses his new book, Political Animal: The Life and Times of Stewart Butler (University Press of Mississippi, 2022). This program is sponsored by the Friends of the Cabildo as part of the Second Thursday Lecture Series. It is free and open to the public, but registration is required. The program will take place on Zoom on Thursday, February 9, 2023, 6:00–7:30 p.m. CST. Please register here! 
About the Book
During Mardi Gras 1973, Stewart Butler (1930–2020) fell in love with Alfred Doolittle—a wealthy socialite and schizophrenic from San Francisco. Their relationship was an improbable love story that changed the course of LGBTQ+ history. With Doolittle's money, Butler was able to retire and devote his life to political activism in the cause of queer liberation. A survivor of the horrific Up Stairs Lounge arson, Butler was a founding member of the first statewide lesbian and gay rights organization in Louisiana and an early champion for transgender rights, playing a key role in the eight-year struggle to persuade PFLAG to become the first national LGBTQ+ organization to include trans people in its mission statement.
In Political Animal: The Life and Times of Stewart Butler, author Frank Perez traces Butler's amazing life from his early childhood in Depression-era New Orleans; his adolescence in Carville, where his father worked at the National Leprosarium; his first unsuccessful attempt at college; his time in the army as a closeted gay man; his adventures in Alaska; his transformation into a hippie in the 1960s; his love affair with Doolittle; his decades as a gay rights advocate; and ultimately, his twilight years as an elder statesman.
Based on Butler's own personal papers, including hundreds of letters, and dozens of interviews, Political Animal paints an intimate portrait of a legendary figure in gay politics and the times in which he lived.
 
About the Author
Frank Perez serves as executive director of the LGBT+ Archives Project of Louisiana, a statewide collective that works to preserve queer history. Perez has authored several books on New Orleans history, including In Exile: The History and Lore Surrounding New Orleans Gay Culture and Its Oldest Gay Bar; Treasures of the Vieux Carré: Ten Self-Guided Walking Tours of the French Quarter; and Southern Decadence in New Orleans. He is also the co-editor of the anthology My Gay New Orleans: 28 Personal Reminiscences on LGBT+ Life in New Orleans. In addition, Perez is also a columnist for Ambush Magazine and French Quarter Journal. In 2012, Perez created the Rainbow Fleur de Lis Walking Tour, a leisurely sashay through the French Quarter's rich queer history. Perez also teaches part-time at Loyola University and is a sought-after public speaker specializing in New Orleans LGBT+ history.