Spectacle of Grief: Public Funerals and Memory in the Civil War Era with Sarah J. Purcell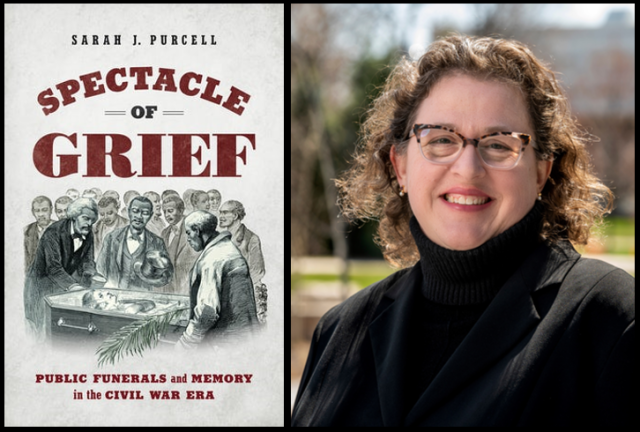 The Cabildo
Greater New Orleans
New Orleans
Event Date
:
Thursday, April 14, 2022
Join us for an evening with Sarah J. Purcell as she discusses her new book, Spectacle of Grief: Public Funerals and Memory in the Civil War Era (University of North Carolina Press, 2022). This program is sponsored by the Friends of the Cabildo as part of the Second Thursday Lecture Series. It is free and open to the public, but registration is required. The program will take place on Zoom on Thursday, April 14, 2022, 6:00 – 7:30 p.m. CST. Please register here: https://forms.gle/Ao3dyhe74bNH8P15A
About the Book
This illuminating book examines how the public funerals of major figures from the Civil War era shaped public memories of the war and allowed a diverse set of people to contribute to changing American national identities. These funerals featured lengthy processions that sometimes crossed multiple state lines, burial ceremonies open to the public, and other cultural productions of commemoration such as oration and song. As Sarah J. Purcell reveals, Americans' participation in these funeral rites led to contemplation and contestation over the political and social meanings of the war and the roles played by the honored dead. Public mourning for military heroes, reformers, and politicians distilled political and social anxieties as the country coped with the aftermath of mass death and casualties.
Purcell shows how large-scale funerals for figures such as Henry Clay and Thomas J. "Stonewall" Jackson set patterns for mourning culture and Civil War commemoration; after 1865, public funerals for figures such as Robert E. Lee, Charles Sumner, Frederick Douglass, and Winnie Davis elaborated on these patterns and fostered public debate about the meanings of the war, Reconstruction, race, and gender.
About the Author
Sarah J. Purcell is the L. F. Parker Professor of History at Grinnell College in Grinnell, Iowa, where she teaches classes on eighteenth and nineteenth century U.S. History, transnational revolutions, public memory, popular culture, and digital history. She is the author of Spectacle of Grief: Public Funerals and Memory in Civil War Era (University of North Carolina Press, 2022), Sealed with Blood: War Sacrifice and Memory in Revolutionary America (University of Pennsylvania Press, 2002) and The Early American Republic: An Eyewitness History (Facts on File, 2004). She has co-authored several other books, including American Horizons: U.S. History in a Global Perspective, 3rd ed. (Oxford, 2020), the first textbook that places U.S. history in a global context, and writes articles and book reviews for both scholarly and media outlets. Purcell is dedicated to fostering student research in history, digital humanities, and American studies, and she was the recipient of the 2019 award for Excellence in Mentoring Undergraduate Research in the Social Sciences from the Council for Undergraduate Research. Purcell also has an interest in K-12 history education and frequently contributes to teacher-development programs run by the George Washington Teacher Institute, the Gilder Lehrman Institute, Humanities Texas, and other institutions.