Spiritualism in Nineteenth Century New Orleans FOC 2nd Thursday Lecture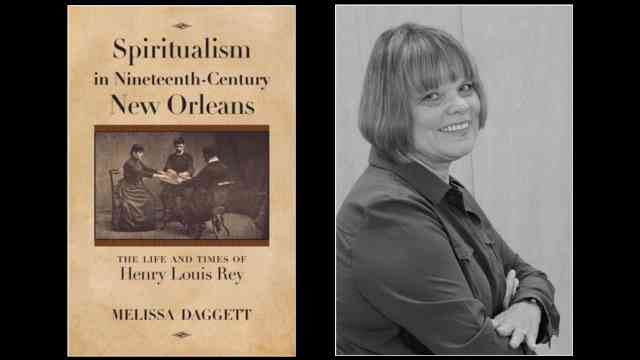 The Cabildo
Greater New Orleans
New Orleans
Event Date
:
Thursday, October 8, 2020
Second Thursday Lecture with Author Melissa Daggett
"Spiritualism in Nineteenth Century New Orleans: The Life and Times of Henry Louis Rey"
Online event hosted on Zoom beginning at 6 pm.
This event is free and open to the public. To register visit: https://forms.gle/1RS8Lk5Ehq5AKRgw8 or by emailing [email protected]
A link/password will be sent on the day of the lecture.
About the Book:
Modern American Spiritualism blossomed in the 1850s and continued as a viable faith into the 1870s. Because of its diversity and openness to new cultures and religions, New Orleans provided fertile ground to nurture Spiritualism, and many séance circles flourished in the Creole Faubourgs of Tremé and Marigny as well as the American sector of the city. Melissa Daggett focuses on Le Cercle Harmonique, the francophone séance circle of Henry Louis Rey (1831-1894), a Creole of color who was a key civil rights activist, author, and Civil War and Reconstruction leader. His life has so far remained largely in the shadows of New Orleans history, partly due to a language barrier.
"Spiritualism in Nineteenth-Century New Orleans" focuses on the turbulent years between the late antebellum period and the end of Reconstruction. Translating and interpreting numerous primary sources and one of the only surviving registers of séance proceedings, Daggett has opened a window into a fascinating life as well as a period of tumult and change. She provides unparalleled insights into the history of the Creoles of color and renders a better understanding of New Orleans's complex history. The author weaves an intriguing tale of the supernatural, of chaotic post-bellum politics, of transatlantic linkages, and of the personal triumphs and tragedies of Rey as a notable citizen and medium. Wonderful illustrations, reproductions of the original spiritual communications, and photographs, many of which have never before appeared in published form, accompany this study of Rey and his world.
Book sold available at the 1850 House Museum Store