Voices of the Enslaved: Love, Labor, and Longing in French Louisiana with Sophie White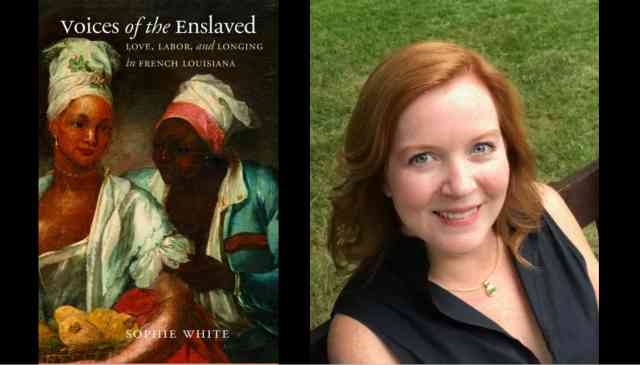 The Cabildo
Greater New Orleans
New Orleans
Event Date
:
Thursday, February 10, 2022
Join us for an evening with Dr. Sophie White as she discusses her recent book, Voices of the Enslaved: Love, Labor, and Longing in French Louisiana (Omohundro Institute and the University of North Carolina Press, 2019), winner of the Williams Prize in Louisiana History and the Frederick Douglass Prize for best book on slavery. This program is sponsored by the Friends of the Cabildo as part of the Second Thursday Lecture Series. It is free and open to the public, but registration is required. The program will take place on Zoom on Thursday, February 10, 2022, 6:00 – 7:30 p.m. CDT. Please register here: https://forms.gle/ad6CjtcWn1Mr78iu6
About the Book
In eighteenth-century New Orleans, the legal testimony of some 150 enslaved women and men—like the testimony of free colonists—was meticulously recorded and preserved. Questioned in criminal trials as defendants, victims, and witnesses about attacks, murders, robberies, and escapes, they answered with stories about themselves, stories that rebutted the premise on which slavery was founded.
Focusing on four especially dramatic court cases, Voices of the Enslaved draws us into Louisiana's courtrooms, prisons, courtyards, plantations, bayous, and convents to understand how the enslaved viewed and experienced their worlds. As they testified, these individuals charted their movement between West African, indigenous, and colonial cultures; they pronounced their moral and religious values; and they registered their responses to labor, to violence, and, above all, to the intimate romantic and familial bonds they sought to create and protect. Their words—punctuated by the cadences of Creole and rich with metaphor—produced riveting autobiographical narratives as they veered from the questions posed by interrogators.
Carefully assessing what we can discover, what we might guess, and what has been lost forever, Sophie White offers both a richly textured account of slavery in French Louisiana and a powerful meditation on the limits and possibilities of the archive.
About the Author
Sophie White is professor of American studies at the University of Notre Dame. She is a historian of early America with an interdisciplinary focus on cultural encounters between Europeans, Africans, and Native Americans and a commitment to Atlantic and global research perspectives. White has won 7 book prizes for Voices of the Enslaved. In addition, she is the author of Wild Frenchmen and Frenchified Indians: Material Culture and Race in Colonial Louisiana and co-editor of Hearing Enslaved Voices: African and Indian Slave Testimony in British and French America, 1700–1848.