After Hours: Washington Mardi Gras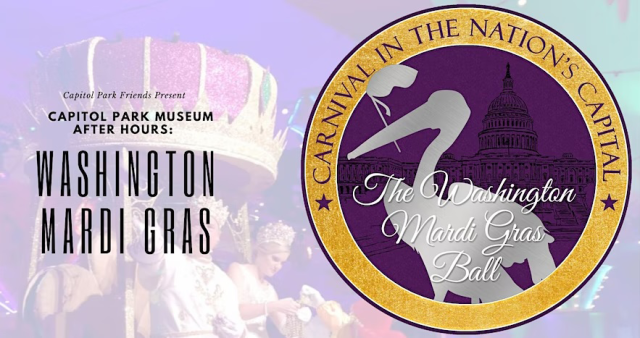 Capitol Park Museum
Baton Rouge
Event Date
:
Thursday, February 9, 2023
Join Friends of the Capitol Park Museum and the Louisiana State Museum for an evening about pageantry, politics, and Mardi Gras in Louisiana with Jessica Dauterive and Arthur Hardy. Dauterive will share her research on culture and pageantry followed by a guided tour of Carnival in the Nation's Capital: The Washington Mardi Gras Ball exhibition by Arthur Hardy.
This talk will draw from Jessica Dauterive's doctoral research on representations of Louisiana's Acadiana region and how those have been expressed through Mardi Gras, tourism, and folk festivals. Dauterive's dissertation, "Imagining Acadiana: Cajun Identity in Modern Louisiana," explores the shifting boundaries of Cajun identity in southwest Louisiana from the 1930s to the 1970s.
 
The exhibition Carnival in the Nation's Capital features royal regalia, costumes, photographs, posters, and memorabilia. Highlights include the gown that Barbara Boggs, daughter of Hale and Lindy Boggs, wore as queen in 1957; Russell Long's and John Breaux's captain's costumes; George Rodrigue's painting of the 1985 king, Marion Edwards; and photographs showing national political figures, from Richard Nixon, John F. Kennedy, and Gerald and Betty Ford to Sandra Day O'Connor.
According to carnival expert Arthur Hardy, the Mystick Krewe of Louisianians, which sponsors the ball, is a key player in the "pantheon of Carnival organizations in the state. The beautiful and comprehensive exhibit currently running at the Capitol Park Museum in Baton Rouge is a tribute to the 75-year history of this important and vibrant organization which, since its founding, has been led by political leaders from Louisiana who have brought the state's signature event to the nation's capital."
THURSDAY, FEBRUARY 9
6:00–9:00 P.M.
FREE, BUT REGISTRATION IS REQUIRED:
https://www.eventbrite.com/e/capitol-park-museum-after-hours-washington-mardi-gras-tickets-519239077057?aff=efbeventtix
 
ABOUT THE PRESENTERS
Jessica Dauterive is a PhD candidate in history at George Mason University. She focuses on twentieth-century U.S. history with concentrations in cultural, digital, and public history. Her dissertation will explore the development of twentieth-century Cajun identity through tools of mass culture, including records, radio, television, tourism, and folk festivals.
Arthur Hardy has been featured in magazines, books, radio, and television, including the Today Show and National Geographic. A 1970 graduate of Loyola University, he taught in the public school system for three years, then went on to become band director at Brother Martin High School. Seeing the need for more detailed information about Mardi Gras parades, he began publishing Arthur Hardy's Mardi Gras Guide in 1977. The annual publication remains indispensable for carnival aficionados.
Capitol Park Museum admission is $7.00 for adults; $6.00 for students with I.D., senior citizens (65+) and members of the military. School groups with reservations and children 6 and under are admitted free. Located at 660 North 4th Street, Baton Rouge, Louisiana 70802, the Museum resides directly across from the New State Capitol.