Discovery Day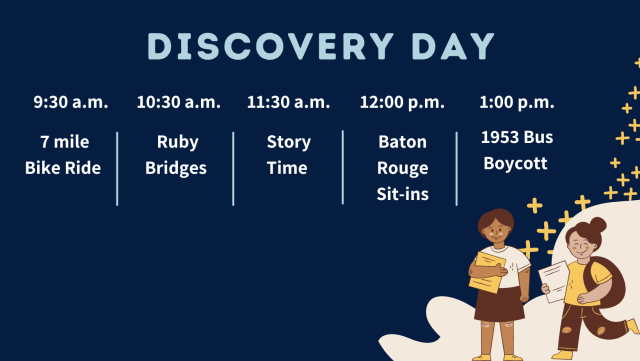 Capitol Park Museum
Plantation Country
Baton Rouge
Event Date
:
Saturday, February 5, 2022
Come join us for a day of educational, hands-on activities exploring Black history in Louisiana. Bring your friends and family to enjoy your local museum at the discounted rate of $5 per person; admission is FREE for members and children under six years old. 
Learn about the Baton Rouge sit-ins, Ruby Bridges, and civil rights in Louisiana. Tour the Capitol Park Museum's Civil Rights exhibition and learn about Louisiana's role in national history.
Schedule
9:30 a.m. |  Bike Ride from museum to Old South Baton Rouge
10:30 a.m.  |  Ruby Bridges activity and gallery tour FOTCPM. Painting analysis – Norman Rockwell, "The Problem We All Live With." 
11:30 a.m. and 12:00 p.m.  |  Story Time with East Baton Rouge Parish Library 
Ruby Bridges Goes to School by Bridges, Opening the Road: Victor Hugo and His Green Book by Dawson, The First Step: How One Girl Put Segregation on Trial by Goodman, and Never Equal: Sylvia Mendez & Her Family's Fight for Desegregation by Tonatiuh
12:00 p.m.  |  Baton Rouge Sit Ins activity 
1:00 p.m.  |  Robin White Clark – Historic 1953 Baton Rouge Bus Boycott and segregation activity.