Discovery Day: Back to School!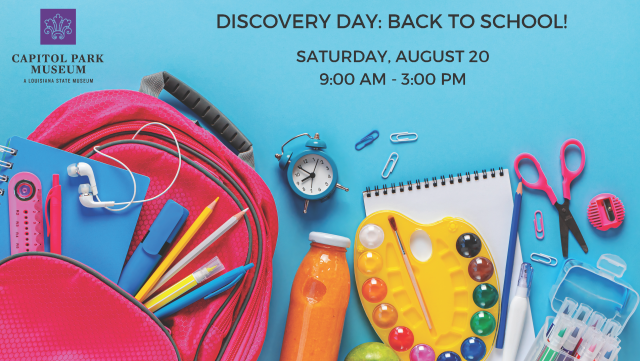 Capitol Park Museum
Baton Rouge
Event Date
:
Saturday, August 20, 2022
Come learn about Louisiana history while getting ready for the new school year. On Saturday, August 20, the Capitol Park Museum will host a day of school supply giveaways, hurricane preparation activities, and other events designed to help you plan for the fall. Discovery Day offers fun for all ages; teachers, students, and parents are all welcome. Join us to restock your school supplies or pick up supplies you may have missed.
Be sure to visit the Capitol Park Museum's four exhibitions while you are here! From Louis Armstrong to Huey P. Long, from Mardi Gras to fais-do-do, and from the nation-building commerce of the Mississippi River to the life-sustaining bounty of the Gulf of Mexico, the Capitol Park Museum provides a panoramic exploration of the most vibrant state in America.
$5 admission (FREE for members and visitors younger than six years old)
In preparation for this event, the museum will be accepting donations to distribute to those in need. Bring whatever you can contribute to 660 North 4th Street between now and 3:00 p.m. on Friday, August 19.