Driving While Black: Race, Space, and Mobility in America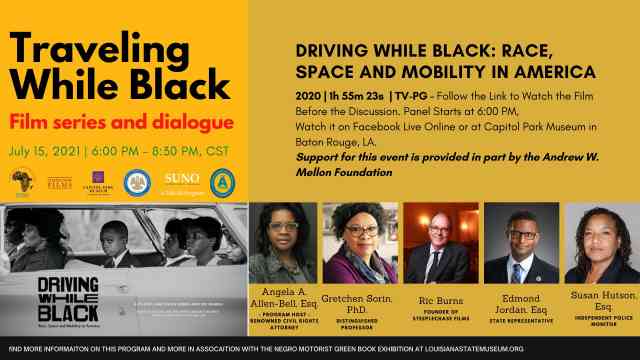 Capitol Park Museum
Plantation Country
Baton Rouge
Event Date
:
Thursday, July 15, 2021
Capitol Park Museum will be hosting the Smithsonian's The Negro Motorist Green Book exhibition from August 21 – November 14, 2021. In conjunction with the exhibition, the Center for African and African American Studies (CAAAS) at Southern University at New Orleans (SUNO) and Capitol Park Museum are co-sponsoring the Traveling While Black Film Series and Dialogue. This multi-institutional effort, utilizing films, lectures, and panel discussions, will highlight the struggles of African Americans to overcome travel obstacles while pursuing full mobility.
Driving While Black: Race, Space, and Mobility in America
1h 55m 23s TV-PG 
6 p.m. to 9 p.m.
FREE EVENT for audiences ages 12 and up
The Traveling While Black Film Series begins with Angela Allen-Bell, Esq., renowned Civil Rights attorney, and B. Agnihotri, Endowed Professor. Celebrated filmmaker Rick Burns will discuss the film's importance and impact on the continued mistreatment of African Americans. They are joined by Louisiana State Representative-District E, Edmond Jordan. Representative Jordan will critique qualified immunity, and identify its unique challenges to African Americans' pursuit of justice. Susan Hutson, City of New Orleans' Independent Police Monitor, will also provide a keen insight into the historical struggles between the New Orleans Police Department and the African American community.
The Negro Motorist Green Book was created by the Smithsonian Institution Traveling Exhibition Service in collaboration with Candacy Taylor, and made possible through the generous support of Exxon Mobil Corporation.