Lunchtime Lagniappe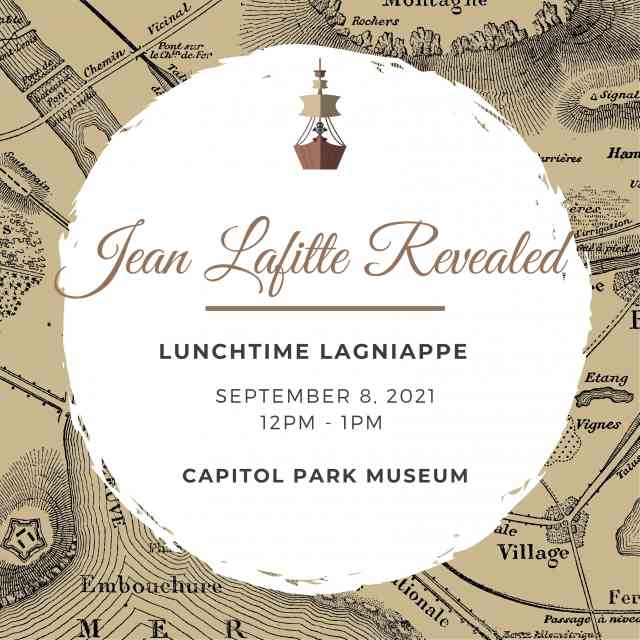 Capitol Park Museum
Plantation Country
Baton Rouge
Event Date
:
Wednesday, September 8, 2021
Join us for our first fall Lunchtime Lagniappe! Lunchtime Lagniappe is an ongoing series of brown-bag talks that start at noon and last approximately 30 minutes plus Q&A. This event is free and open to the public.
On September 8th we will hear a presentation about Jean Laffite Revealed: Unraveling One of America's Longest-Running Mysteries. Jean Laffite Revealed takes a fresh look at the various myths and legends surrounding one of the last great pirates. Beginning in 1805, the book traces Laffite through his rise to power as a privateer and smuggler in the Gulf, his involvement in the Battle of New Orleans, his flight to Texas, and his eventual disappearance in the waters of the Caribbean. With stunning revelations, this book picks up the trail from there—a trail that no one knew existed until now. This carefully researched work is a bona fide wild ride that will silence long-held speculation about Laffite's ultimate fate.
Dr. Ashley Oliphant and Beth Yarbrough are a mother-daughter research team from Lincolnton, North Carolina.
Oliphant is an associate professor of English at Pfeiffer University, where she has taught in the English Department since 2007. She is an active member of the Hemingway Society, having presented at its international conferences and published in The Hemingway Review.
Beth Yarbrough is a nationally known artist and photographer whose depictions of historic homes and structures across the South are featured on her website Southern Voice and in her extensive collection of published calendars.
You will be able to ask Dr. Ashley Oliphant and Beth Yarbrough questions in their live-streamed presentation.