Preservation Month Kickoff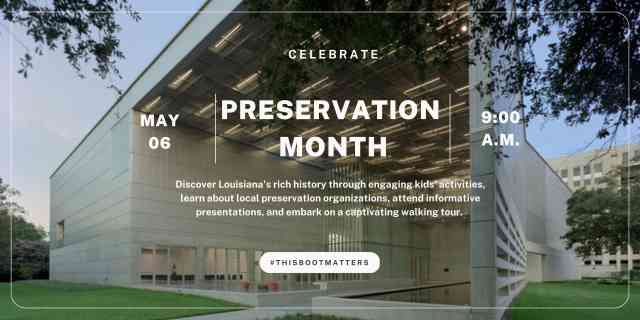 Capitol Park Museum
Baton Rouge
Event Date
:
Saturday, May 6, 2023
Join us from 9:00 a.m.–3:00 p.m. at Capitol Park Museum to celebrate National Preservation Month! Discover Louisiana's rich history by engaging in kids' activities, learning about local preservation organizations, attending informative presentations, and embarking on a captivating walking tour. We are dedicated to preserving our heritage and creating a more equitable and sustainable future for all. Don't miss this exciting opportunity!
#NationalPreservationMonth #CapitolParkMuseum #LouisianaHistory #Preservation #Sustainability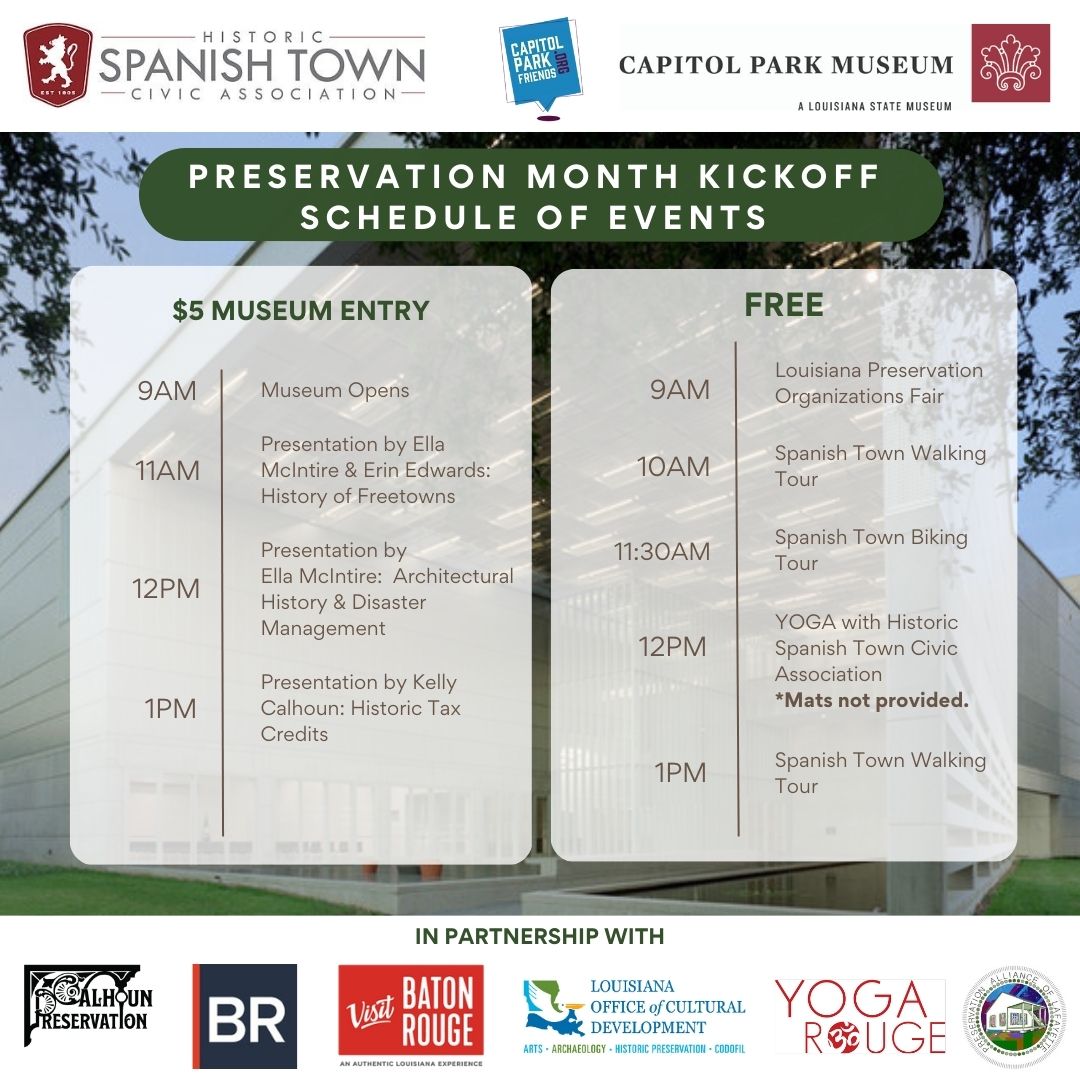 FREE EVENTS
9:00 a.m. Learn about preservation organizations and
                 what they do to protect Louisiana's material culture
10:00 a.m. Walking Tour
                 Reserve Tickets Today!
11:30 am Biking Tour
                 Reserve Tickets Today! 
12:00 p.m. Yoga with the Historic Spanish Town Civic Association
1:00 p.m. Walking Tour
                 Reserve Tickets Today! 
$5 Museum entry, free for members
9:00 a.m. Capitol Park Museums opens with preservation month 
activities and a historic architecture self-guided tour of our 20,000 ft2 
of permanent exhibitions
11:00 a.m. – Elle McIntire and Erin presentation about the
architectural history of freetowns
12:00 p.m. Elle McIntire presentation about architectural history and
disaster management
1:00 p.m. Historic Tax Credits presentation with Kelly Calhoun
of Calhoun Preservation, LLC, Historic Preservation Consultant
& Real Estate. Kelly will define a tax credit it, WHO benefits from
the program, WHAT buildings are eligible for the credit, WHERE a
building must be located to be eligible, WHEN a project should be
completed, WHY the tax credit program exists, and HOW you can
apply for historic tax credits on your own historic structure!
 
If you are interested in volunteering with the Capitol Park Museum
Historic Spanish Town Walking Tour, contact [email protected]