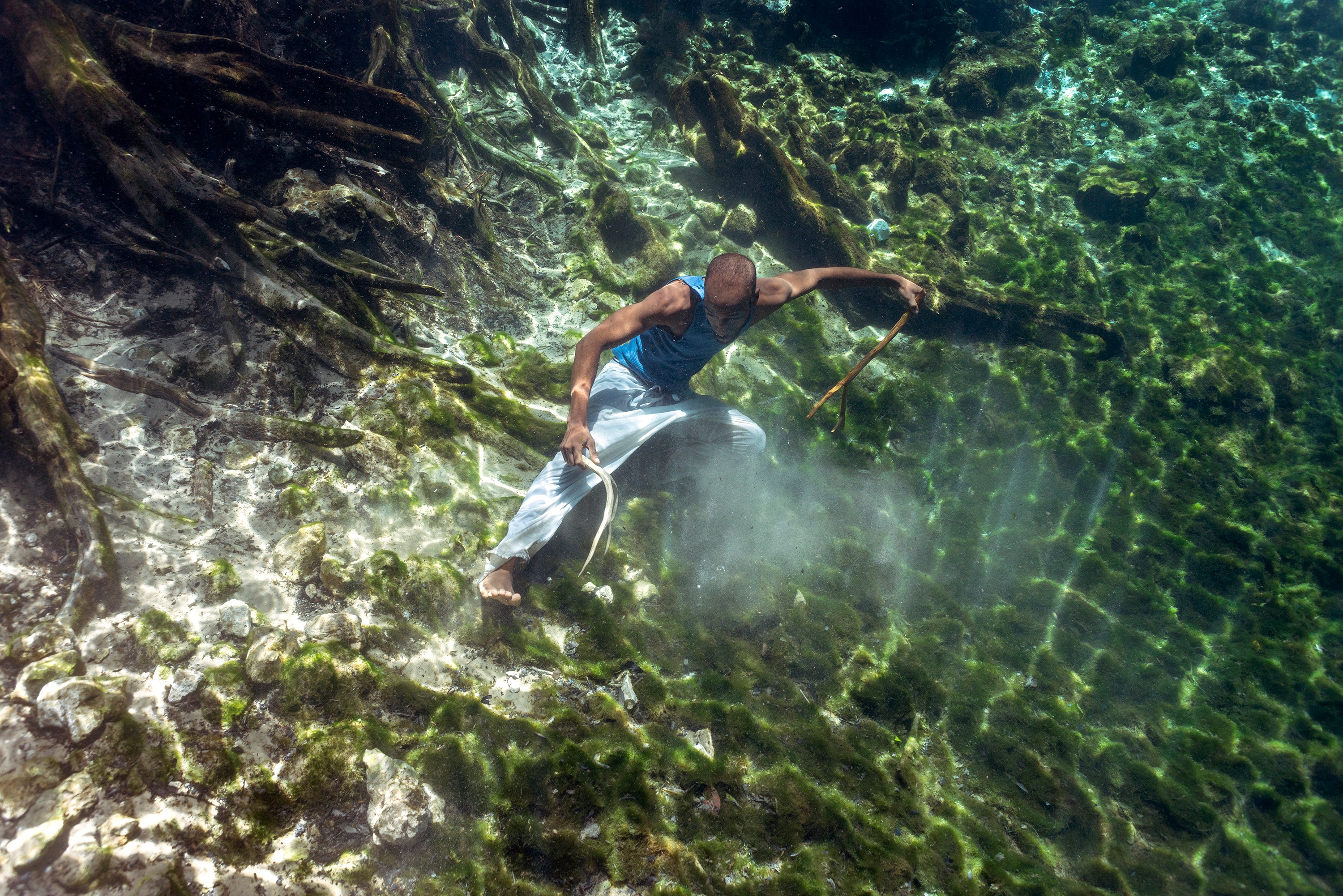 Michel Varisco. Plowing the Sea. Thermal dye sub on aluminum. Edition 1/5. 2020. 25 x 38 inches. (Mitoloji Latannyèr)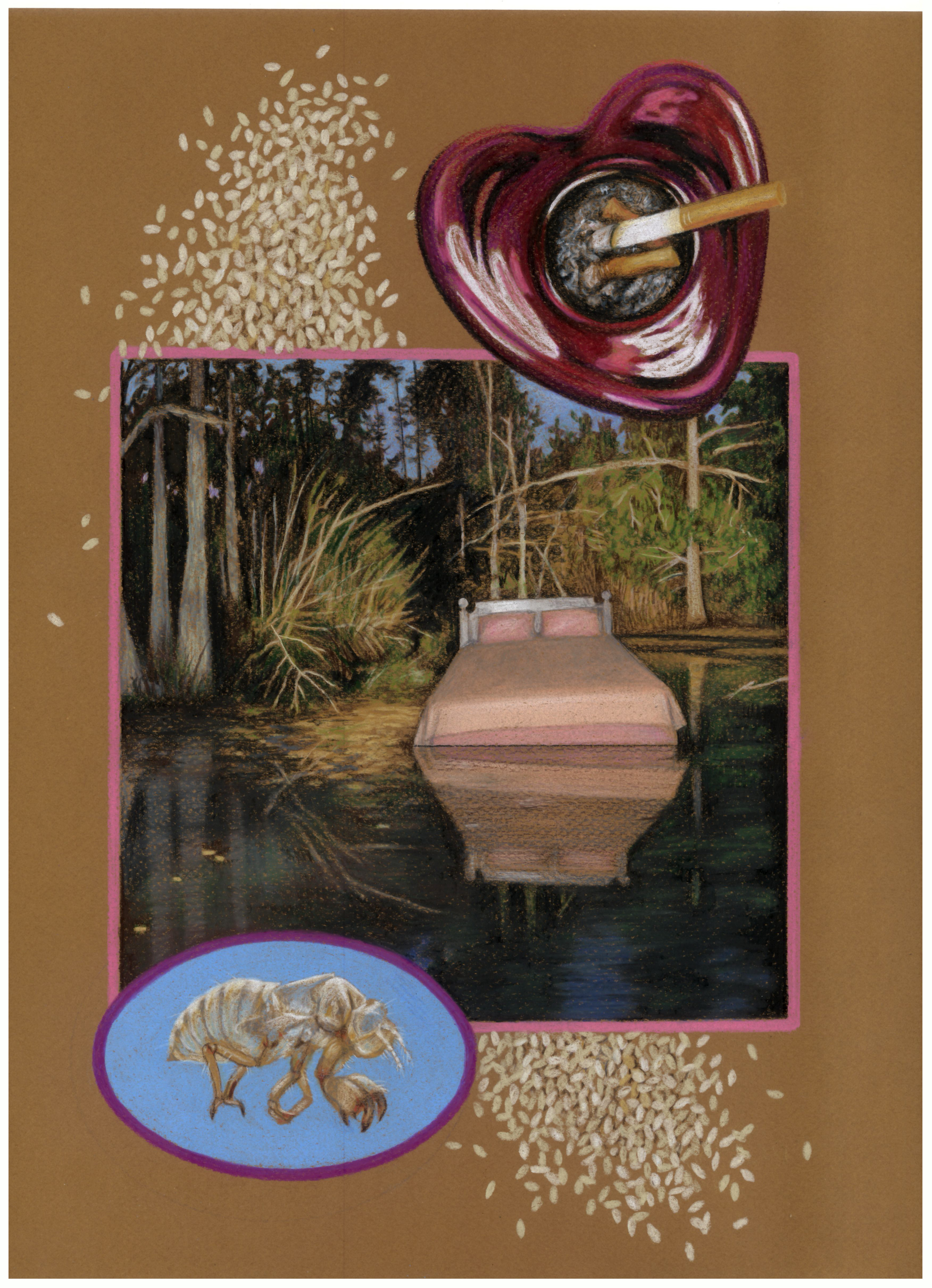 Emily Margaret. From the Dolo ki répozé (Quiescent Waters) series. Colored pencil on paper. 2022. 16 x 12 inches. (Mitoloji Latannyèr)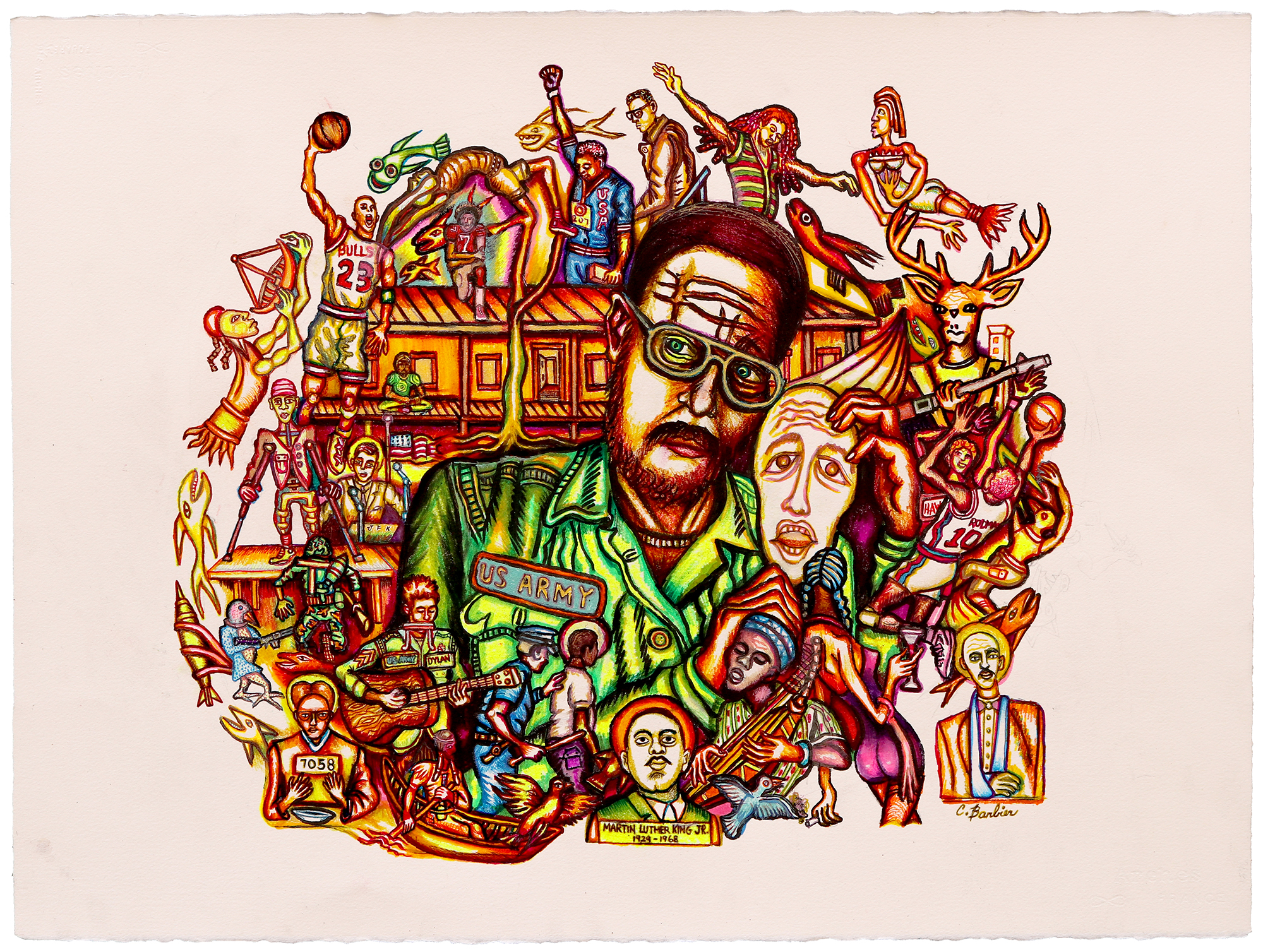 Charles Barbier. Black and White. Mixed media on paper. 2018. 22.5 x 30 inches. (Mythologies Louisianaises)
Mitoloji Latannyèr/Mythologies Louisianaises
In louværti lèkspo Léta Lalwizyàn koté mizé Capitol Park
Un vernissage d'exposition de l'État de Louisiane au musée Capitol Park
A Louisiana State Exhibition opening at Capitol Park Museum

Lieutenant Governor Billy Nungesser and Capitol Park Museum are pleased to announce the exhibition Mitoloji Latannyèr/Mythologies Louisianaises, which explores the French, Creole, and Tunica languages of Louisiana through art and storytelling. Opening on October 21 at Capitol Park Museum, it features more than forty paintings, images, sculptures, and stories, with accompanying texts in Louisiana and International French, Kouri-Vini (Louisiana Creole), and English, plus a special tale in Tunica. According to Dr. Nathan Rabalais, a professor of French and francophone studies at the University of Louisiana at Lafayette, the exhibition demonstrates "both the constant evolution and the longevity of Louisiana's culture."  
Guest curator Jonathan Mayers collaborated with artists and writers who have been distanced from their cultures as a result of Americanization or physical location as well as others who have embraced the cultures of the region. Drawing on themes that include environmental devastation and social justice, they have created artwork and stories told through Louisiana's heritage languages. As the exhibition's creative partners "réklamé mañè-layé péyisaj maré yê ensemb" (reclaim the ways in which the landscape binds them), they invite visitors to engage in this homage to the state's language, identity, and folklore. 
The exhibition will be accompanied by texts by Robin White, Professor of English at Nicholls State University, and Darius A. Spieth, Professor of Art History at Louisiana State University, who also contributed the preface and the introductory essay, respectively, to the catalogue accompanying Mitoloji Latannyèr. An extensive array of educational programs scheduled throughout the run of the exhibition will focus on Louisiana's heritage languages. "Louisiana French and Kouri-Vini are vital components of our culture," says Lieutenant Governor Nungesser. "It's important to keep them alive for future generations."
Jonathan "radbwa faroush" Mayers was born and raised in Istrouma (Baton Rouge), Louisiana, and earned a BFA from Louisiana State University and an MFA from the University of New Orleans. The former Baton Rouge Poet Laureate (2021-2023) is also a visual artist, independent curator, educator, and cultural activist who uses Kouri-Vini, the endangered Creole language of Louisiana, in both his writing and daily life. He paints images of mythological beasts and monsters in familiar landscapes and comments on social, environmental, and cultural happenings in the region. He is represented by the Arthur Roger Gallery in New Orleans. Mayers is also the founding president of Chinbo, Inc., a nonprofit dedicated to the reclamation of Kouri-Vini, which provides educational materials in the language to the Louisiana community and its diaspora.
Please note: out of respect for the culture bearers and their intellectual property, please share any photos and phone-camera video of speakers respectfully and never for profit or commercial use.
Hear the curator, Jonathan "radbwa faroush" Mayers, pronounce the title of this exhibition in both Kouri-Vini and French below.