The Music of Sharon Joy: Songs of Peace, Inspiration, and Hope for our World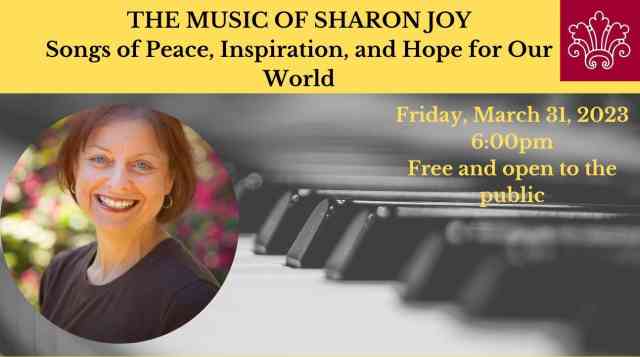 Louisiana Sports Hall Of Fame & Northwest Louisiana History Museum
Natchitoches
Event Date
:
Friday, March 31, 2023
Please join us at 6:00 p.m. as composer, songwriter, and music educator Sharon Joy presents a concert of her original songs, inspired by a variety of traditions. These inspiring songs have been performed at interfaith gatherings, churches and synagogues, Native American ceremonies, weddings, musical plays, and peace events, but never here in Natchitoches.
Dr. Joy, who recently retired from NSU as Associate Professor of Music Education, will present this retrospective of original songs inspired by a variety of traditions, cultures, and faiths. The search for Truth is universal and these songs reflect that desire for wisdom and understanding that is shared by all traditions. Join us for this unique event of music that is guaranteed to lift your spirit.                                              
This event is FREE and open free to the public. Please visit our FLASH Facebook page or contact Sharon Joy at (832) 978-6145 or [email protected] for more information.
Image courtesy of Sharon Joy