Olympic Glory with Danielle Scott-Arruda: The Third Interview in a Four-Part Series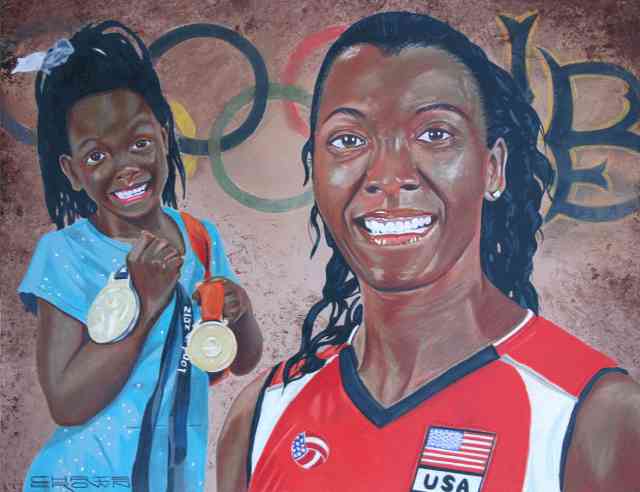 Louisiana Sports Hall Of Fame & Northwest Louisiana History Museum
Crossroads
Natchitoches
Event Date
:
Saturday, May 22, 2021
Please join us from 2:00–3:00 p.m. at the Louisiana Sports Hall of Fame & Northwest Louisiana History Museum as we bring four world-class Olympic athletes to the museum for a month-long lecture series in May 2021. This series explores the role of sports in American culture and consider how the values of discipline, determination, sportsmanship, teamwork, respect, perseverance, and doing your personal best, exemplified by the Olympians, mirror the values necessary to achieve success in everyday life.  
Danielle Scott-Arruda has won two Olympic silver medals in volleyball, one at the 2008 Beijing Games and one at the 2012 London Games. She was a key member of Team USA for an unprecedented five consecutive Olympics (1996, 2000, 2004, 2008 and 2012). Scott-Arruda earned a spot on the USA Volleyball elite team for 19 years, competing in more than 400 matches and winning 20 medals. She is one of only four volleyball players from any nation to compete in five Olympics. The Baton Rouge, LA, native was inducted into the International Volleyball Hall of Fame in 2016 and the Louisiana Sports Hall of Fame in 2019. Please join us for a lively conversation between Louisiana Sports Hall of Fame Chairman Doug Ireland and Danielle Scott-Arruda as they discuss what it means to be an Olympic athlete.
State regulations regarding masks and physical distancing will be followed. For a complete schedule of interviews, please visit www.LouisianaStateMuseum.org/events/ or call (318) 357-2492 for more information. This event is free and open to the public.
Image: Danielle Scott-Arruda by Chris Brown 2019. Gift of the Louisiana Sports Hall of Fame Foundation.
This program is funded under a grant from the Louisiana Endowment for the Humanities, the state affiliate of the National Endowment for the Humanities. Any views, findings, conclusions or recommendations expressed in this program do not necessarily represent those of the National Endowment for the Humanities.