Bonadventure Pencroff ft. Kidd Jordan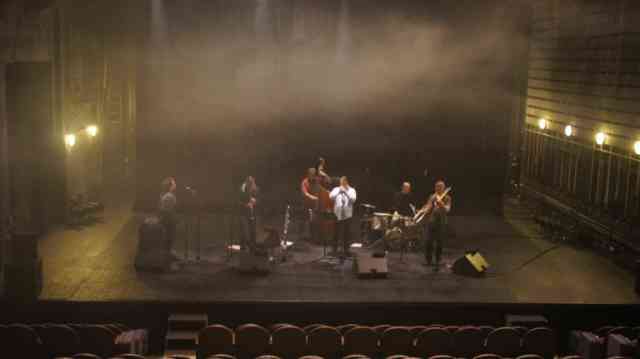 The New Orleans Jazz Museum At The Old U.S. Mint
Greater New Orleans
New Orleans
Event Date
:
Wednesday, April 25, 2018
Join us from 4pm to 6pm for BONADVENTURE PENCROFF, a french american jazz group born from exchanges between Chicago and the musicians from Brest, France. Free and open to the public, presented by the New Orleans Jazz Museum, French American Chamber of Commerce - Gulf Coast Chapter (FACC-GC) and New Orleans Jazz National Historical Park.
About
Bonadventure Pencroff is one of the five castaways, the versatile sailor, of Jules Verne's "L'île mystérieuse"... In the book, Bonadventure Pencroff has this magnificent repartee: " Cyrus, do you think there are islands for castaways, specially created to be shipwrecked?" Bonadventure Pencroff is also the name given to the musical meeting between the spirit of adventure in Brittany today, and two axis of rotation of the Creative Music in Chicago for twenty years, which interact between the rock of Tortoise or Stereolab and the biggest names of free and open jazz (Bill Dixon, Pharoah Sanders, Peter Brötzmann, Roscoe Mitchell, Ken Vandermark).
This clash is put into perspective by a matrix of stories to relate (oneself), working as the collectively composed, then improvised, music actions, reactions, anticipations, digressions… And this meeting would also draws its inspiration from "L'Île Mystérieuse" to imagine new fantastic navigations. Alexandre Pierrepont will follow the project and the crossings of Christophe Rocher, Fred Briet, Nicolas Pointard, Jeb Bishop and Rob Mazurek with his internal/external look, his texts, his resources and his inspirations, such a "Fortune Teller" (in french – « Bonne aventure »). Pushed and rushed, he will push and rush, query and feed this atypical experience with his own expertise and knowledge, Bonadventure Pencroff is a new form of creation, of musical thought, of poetic trip, with a lot of multiple logics/systems.
Lineup
Christophe Rocher (Brest, France) : Clarinets
Rob Mazurek (Chicago, Il, USA) : Cornet, Electronics
Jeb Bishop (Chicago, Il, USA) : Trombone
Frédéric Briet (Brest, France) : Double-bass
Nicolas Pointard (Brest, France) : Drums
Alexandre Pierrepont (Paris, France) : Fortune Teller
Very Special Guest : Kidd Jordan (New Orleans, USA) : Saxophone