Downtown Mardi Gras: New Carnival Practices in Post-Katrina New Orleans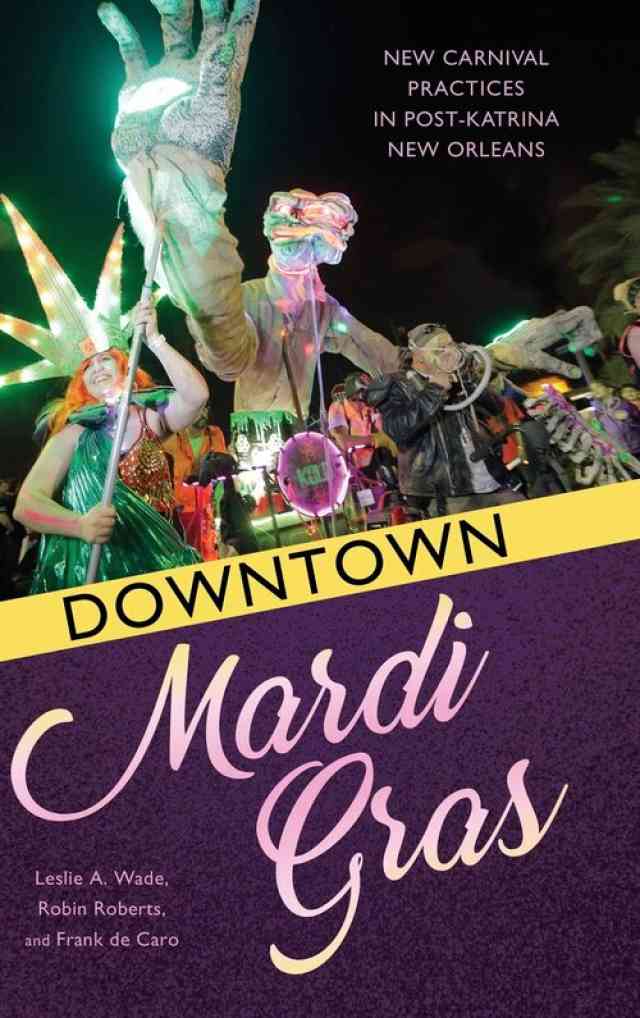 The New Orleans Jazz Museum At The Old U.S. Mint
Greater New Orleans
New Orleans
Event Date
:
Friday, February 7, 2020
Join us in the Jazz Museum's recently opened Education Center for a book signing by authors Robin A. Roberts, Ph.D., Les Wade, Ph.D. and Frank de Caro. Their book, Downtown Mardi Gras: New Carnival Practices in Post-Katrina New Orleans is a study of how the culture and customs of a city foster its rebirth.
This program runs from 1:00 to 3:00 p.m. and is free and open to the public, presented by the New Orleans Jazz Museum.
About the book
After Hurricane Katrina devastated New Orleans and the surrounding region in 2005, the city debated whether to press on with Mardi Gras or cancel the parades. Ultimately, they decided to proceed. New Orleans's recovery certainly has resulted from a complex of factors, but the city's unique cultural life—perhaps its greatest capital—has been instrumental in bringing the city back from the brink of extinction.
Voicing a civic fervor, local writer Chris Rose spoke for the importance of Carnival when he argued to carry on with the celebration of Mardi Gras following Katrina: "We are still New Orleans. We are the soul of America. We embody the triumph of the human spirit. Hell, we ARE Mardi Gras."
Since 2006, a number of new Mardi Gras practices have gained prominence. The new parade organizations or krewes, as they are called, interpret and revise the city's Carnival traditions but bring innovative practices to Mardi Gras. The history of each parade reveals the convergence of race, class, age, and gender dynamics in these new Carnival organizations. Downtown Mardi Gras: New Carnival Practices in Post-Katrina New Orleans examines six unique, offbeat, Downtown celebrations. Using ethnography, folklore, cultural studies, and performance studies, the authors analyze new Mardi Gras's connection to traditional Mardi Gras. The narrative of each krewe's development is fascinating and unique, illustrating participants' shared desire to contribute to New Orleans's rich and vibrant culture.
About the Authors
Leslie A. Wade is a professor and playwright in the Theatre Department at the University of Arkansas. Formerly the Billy J. Harbin Professor of Theatre at Louisiana State University, he has published on contemporary theatre and New Orleans culture.
Robin Roberts is professor of English and gender studies at the University of Arkansas. She is author of several books on gender and popular culture, including Subversive Spirits: The Female Ghost in British and American Popular Culture, Anne McCaffrey: A Life with Dragons, Ladies First: Women in Music Videos, Sexual Generations: Star Trek: The Next Generation and Gender, Anne McCaffrey: A Critical Companion, and A New Species: Gender and Science in Science Fiction.
Frank de Caro is professor emeritus at Louisiana State University. He is the award-winning author of numerous books on folklore, including Folklore Recycled: Old Traditions in New Contexts.