James Michalopoulos' Music Paintings Exhibition Opening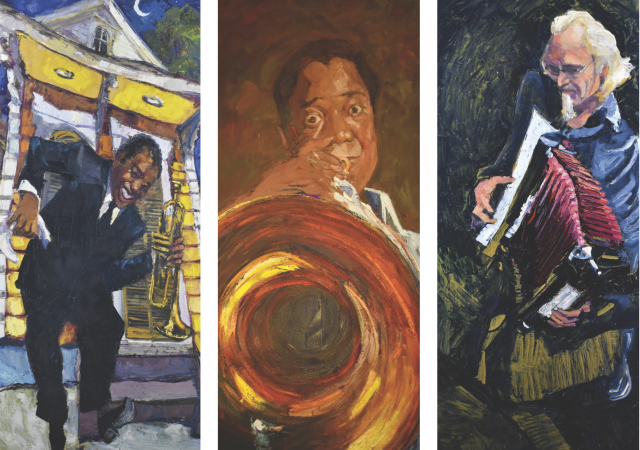 The New Orleans Jazz Museum At The Old U.S. Mint
Greater New Orleans
New Orleans
Event Date
:
Thursday, April 29, 2021
The New Orleans Jazz Museum looks forward to the debut of a new exhibit, From the Fat Man to Mahalia: James Michalopoulos' Music Paintings, opening on April 29, 2021. Through his colorful and energetic compositions, James Michalopoulos, New Orleans' most recognized living artist, conjures the moods and syncopation of jazz in his work. This retrospective will span the artist's most recent paintings of street musicians to his more rarely seen works loaned from private collections across the United States, including works such as the original Louis Armstrong painting behind the 2001 Jazz Fest poster— to be exhibited here in Louisiana for the first time in 20 years. The exhibit will pair iconic instruments from the New Orleans Jazz Museum's collection, such as the pianos of jazz greats Fats Domino and Dr. John, with Michalopolous' portraits of their legendary owners. The exhibit is included in admission to the New Orleans Jazz Museum.
We welcome guests for the open on Thursday, April 29, at 6PM to celebrate the opening with performances by the Adonis Rose Ensemble and refreshments by Celebration Distillation and Louisiana Pizza Kitchen. This event is free and open to the public with a limited capacity. Please register here!
SAFETY: To ensure the best safety and social distancing practices, we will be timing entrance into the exhibit throughout the evening. Guests, staff, and musicians are required to wear a mask unless actively eating, drinking, or performing.