Lady A: Live in New Orleans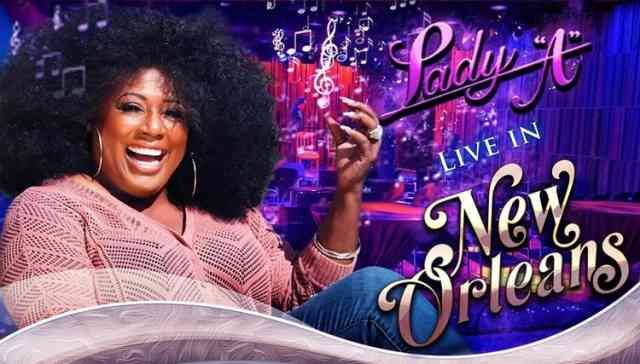 The New Orleans Jazz Museum At The Old U.S. Mint
Greater New Orleans
New Orleans
Event Date
:
Friday, June 7, 2019
Join us on Friday, June 7 at 2:00pm for a performance by songwriter and producer Lady A. Tickets for the concert are $8.00, available on the third floor (cash only) or online here, and include admission to the Jazz Museum exhibits.
Lady "A" has been a Pacific NW Blues favorite for many years and is known as "The Hardest Workin Woman in Blues, Soul & Funk & Gospel. Her CD "DOIN' FINE" comes highly acclaimed by her peers, music disc jockey's and audiences in the music industry. Her 2016 CD release of Loved, Blessed & Blues was up for both Grammy and Blues Music Award consideration.
The Lady's high energy show has been compared to the likes of "Tina Turner" and "Chaka Khan" ~ that smile easily draws the audience in with her sultry-husky voice and contemporary blues-funk style.
This songstress began singing at age 5. She began her performance career as a back-up singer in a Motown Revue band during the 80's. Her love of story-telling through her lyrics, gospel background, Alexandria, Louisiana roots, and musical family always led her back to the Blues and Gospel music, mixed with flavors of Pacific NW soul and funk like a perfect jambalaya.