Second Thursday Lecture Series: Sara Ann Harris on "Dance Halls of Southern Louisiana"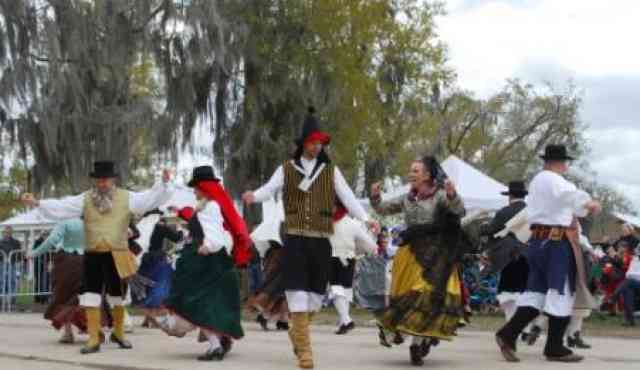 The New Orleans Jazz Museum At The Old U.S. Mint
Greater New Orleans
New Orleans
Event Date
:
Thursday, May 9, 2019
Friends of the Cabildo hosts Second Thursday Lecture Series at 6pm featuring speaker Sara Ann Harris on "Dance Halls of Southern Louisiana." Admission is free and this event is open to the public. For more information, please contact (504) 523-3939.
The Dance Halls of Spanish Louisiana avaiable for purchase at the 1850 House Museum Store, 523 St. Ann St. or http://bit.ly/DanceHallBook
"The Isleños of Louisiana, Spanish Canary Islanders who immigrated to Louisiana in the late-eighteenth century, are one of the most unique ethnic groups in the American South. They also compose one of the best preserved immigrant cultures in the United States, having safeguarded their way of life into the 21st century.
Author and cultural historian Sara Ann Harris spent years as an observer in the Isleños community of Lower St. Bernard parish in Louisiana before deciding to document this amazing culture that has withstood the encroaches of other nationalities and the ravages of time. Her descriptions of the dance halls that form a cornerstone of the cultural identity of a vanishing people is a fascinating glimpse into one of the best-preserved immigrant cultures in the United States.
The dance halls in Harris' narrative are filled with characters from courting couples to long established partners, and speckled with the reminiscences of the heyday of the Dance Halls of Delacroix, known simply as the Island. Through the eyes of a keen observer, Harris relates her dialog on cultural traditions including Spanish Louisiana foods, the flavors of Spanish wines, the Isleños dialect, and the decimas or Spanish Louisiana folk songs. The rich and multilayered stories of the dancers and their community portray the vestiges of a proud and ancient heritage preserved forever in these pages."
Sara Ann Harris, born in Maryland and raised in New Orleans, received a BA in psychology from Tulane University and an MA in English from the University of New Orleans. She taught persuasive writing at Loyola University and Dominican College and worked for twenty-two years in the Louisiana Department of Wildlife and Fisheries (LDWF) as a Communications Specialist and Communications Director. Harris provides communications services specializing in the cultural history of southeast Louisiana.