Sensory Friendly Afternoon for Teens & Adults at the New Orleans Jazz Museum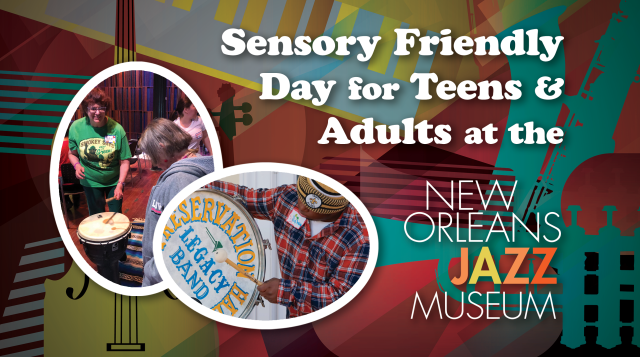 The New Orleans Jazz Museum At The Old U.S. Mint
Greater New Orleans
New Orleans
Event Date
:
Saturday, June 18, 2022
Teens and adults with autism and developmental disabilities and their families are invited to a sensory friendly morning to celebrate Juneteenth at the New Orleans Jazz Museum at the Old U.S. Mint! On Saturday, June 18, 2022, 11:00 a.m.–1:00 p.m. the Jazz Museum will close to the public to minimize crowds and exhibit noises. Trained educators and volunteers will help lead exploration of museum exhibitions and drop-in art activities celebrating Juneteenth and New Orleans culture and music. Luther Gray and Jamilah Peters-Muhammad of the Congo Square Preservation Society will lead drumming and dancing. Come create, dance, sing, and celebrate together. This program is free for the whole family, but registration is required. Please register here: https://forms.gle/CrrJu5DUcuR4u5pc8
This program is offered in partnership with the Louisiana Museum Foundation and made possible with generous support from IBERIABANK | First Horizon. For more information about this program, please contact Director of Education, Sara Lowenburg, at [email protected] or (504) 568-6980.