New Orleans Music Observed: Noel Rockmore & Emilie Rhys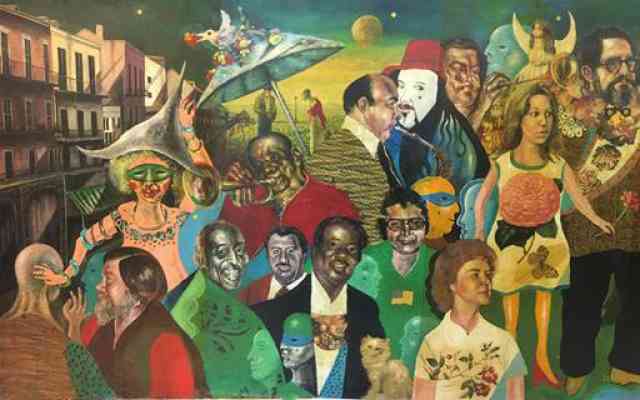 The New Orleans Jazz Museum At The Old U.S. Mint
January 30, 2020

to

September 1, 2020
The New Orleans Jazz Museum will debut a new exhibition, New Orleans Music Observed: The Art of Noel Rockmore and Emilie Rhyson Thursday, January 30, 2020. This new exhibition brings together for the first time the musical portraits of acclaimed artists Noel Rockmore and Emilie Rhys.
The exhibition opens with a reception at the New Orleans Jazz Museum, Thursday, January 30, 2020, from 6:00 p.m. to 8:00 p.m. The public is invited to this free opening, which will feature live music and light refreshments, to be announced.
The Late Noel Rockmore and his daughter Emilie Rhys are both renowned for their portraits of musicians in New Orleans. Rockmore (1928 – 1995) and Rhys (1956 – ) both have used their unique vision not only to paint musicians but also to reveal their personalities and ways of approaching and making their music. This exhibit that pairs them together for the first time will also be supplemented by the holdings of the New Orleans Jazz Museum which has the most extensive collection of early jazz artifacts in the world.
"I could not be more thrilled to be chosen by the New Orleans Jazz Museum for the opportunity to exhibit some of my music artwork alongside that of my late father, Noel Rockmore." said artist Emilie Rhys, "This is the first time our work will be displayed on museum walls concurrently, and I can't wait to see what the reaction is from visitors to the show."
Noel Rockmore was born December 15, 1928 in New York City to artists Floyd Davis and Gladys Rockmore Davis. He started studying art and music at age 9 and took to it very quickly. By the time he was a young man, his work was in group exhibitions at the Metropolitan Museum, Whitney Museum, Museum of Modern Art, and The Pennsylvania Academy of Fine Arts, and he had his first one-man gallery show in 1955 in New York City.
Rockmore moved to New Orleans in 1959 and immediately jumped into the bohemian world of the French Quarter. His subjects included street performers, writers, artists, musicians, and the assorted characters who frequented the Vieux Carre. His most famous work came from commissions from art dealer Larry Borenstein whose gallery on St. Peter Street became Preservation Hall. Borenstein asked Rockmore to paint the traditional jazz musicians who played his gallery and later the Hall. He did both formal sittings and informal sketch type portraits. In the late 1960s through his death in 1995, he split his time between New Orleans and New York where his work included series on the Civil War, Ancient Egypt, Jerusalem, and immigration.
"The work of both Emilie Rhys and Noel Rockmore show skill, technique, and passion. Their portraits of musicians offer their pronounced and sensitive insight both to the music and the players." said Music Curator David Kunian.
Emilie Rhys was born in New York City on May 29, 1956, the daughter of Noel Rockmore and Elizabeth Hunter, and the granddaughter of NYC artists Floyd Davis and Gladys Rockmore Davis. Her parents divorced when she was 20 months old, and she did not see her father again till she was 20 years old. She received no formal art training.
Celebrated for her pen and ink drawings of musicians produced live in New Orleans music venues, Emilie Rhys also is a painter of oil portraits and various other genres. Her career as an artist spans more than forty years.
Rhys first lived in New Orleans briefly in 1977 with her father, the renowned artist Noel Rockmore, while she worked as a portrait painter on Jackson Square. That same year she created a mural in the historic Skyscraper building at St. Peter and Royal Streets. 
In 2011 Rhys returned to live in the French Quarter and immersed herself in the city's music scene. Five years later, to showcase her burgeoning music-art inventory, she opened her Toulouse Street gallery, Scene by Rhys Fine Art. Her work is featured in numerous collections in the United States and locations around the globe.
"The relationship of music and visual arts has long been one of mutual exchange and influence, and will be celebrated in our exhibition of Emilie Rhys and Noel Rockmore's work." said New Orleans Jazz Museum Director, Greg Lambousy, "Emilie has been a longtime friend of the museum, and can often be found sketching the many live musicians who perform here. I am especially excited to see her portrait on exhibit of our Jazz Curator Emeritus, Don Marquis."
New Orleans Music Observed: The Art of Noel Rockmore and Emilie Rhys will display instruments such as Ernie Cagnolatti's trumpet or and George Lewis' clarinet that were played by the subjects of the portraits and sometimes featured in the paintings themselves. Also, the exhibits pulls paintings from private collections and museums such as the Historic New Orleans Collection and the Ogden Museum of Southern Art. New Orleans Music Observed: The Art of Noel Rockmore and Emilie Rhys promises to illuminate new insights into the work of these great artists, the venerated musicians who are their subjects, and even the mysterious nature of New Orleans music and New Orleans itself.
New Orleans Music Observed: The Art of Noel Rockmore and Emilie Rhys will be on display through September 1, 2020.