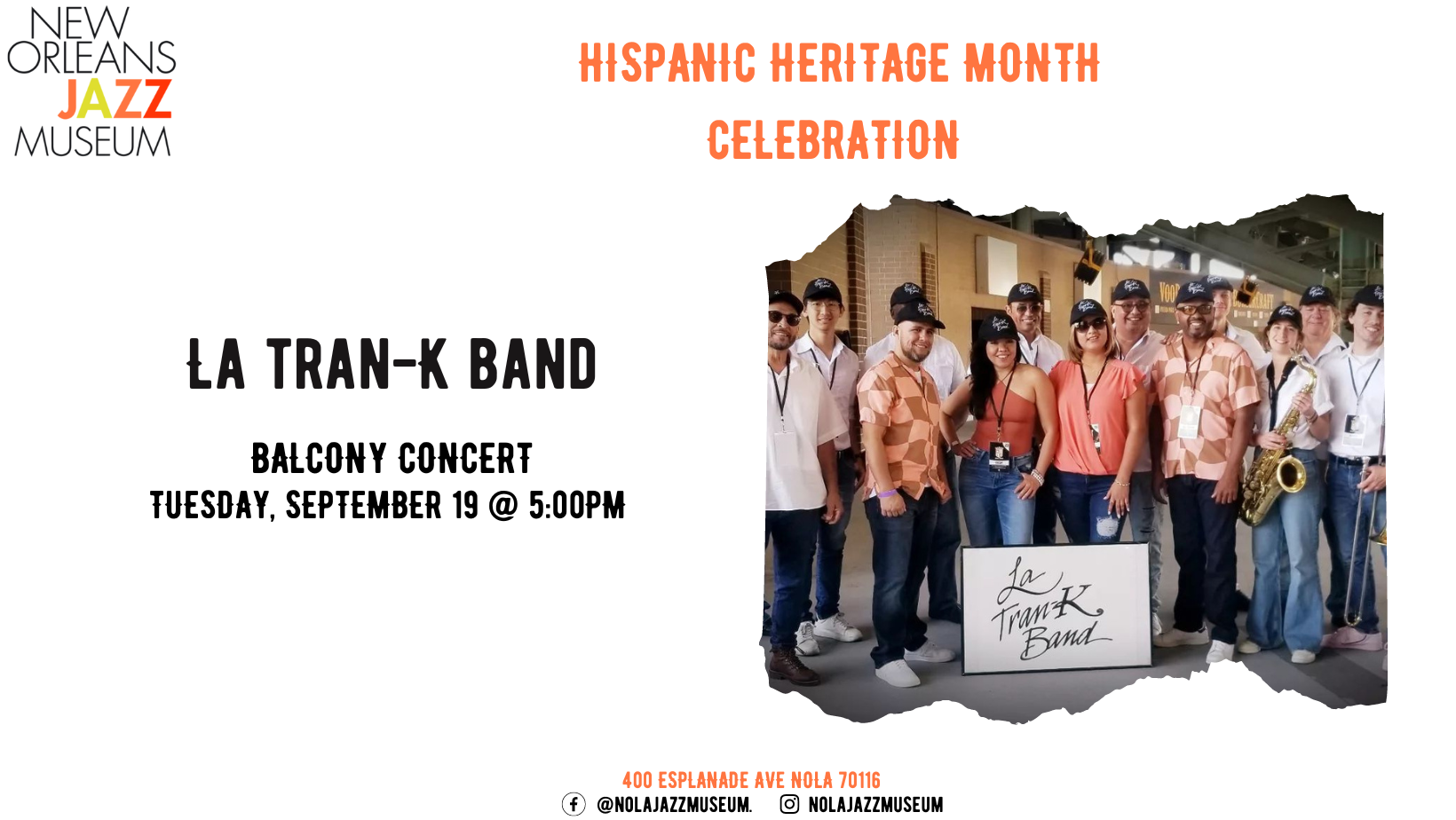 La Tran-K Band LIVE From the Jazz Museum Balcony!
Sat, Sep 09, 2023 - Sat, Sep 09, 2023
Orleans Jazz Museum at Old U.S. Mint
The New Orleans Jazz Museum and the New Orleans Jazz National Historical Park are proud to celebrate Hispanic Heritage Month. Starting Friday, September 22 through Friday, October 13, you can enjoy weekly live music performances as we honor Hispanic Heritage Month. The concerts will be held inside our third-floor Performance Center every Friday @ 2 p.m. with two special Balcony shows in the Museum's courtyard on Tuesday, September 19 & Tuesday, October 10 starting at 5:00 p.m. All events are free and open to the public; seating is limited and offered on a first-come, first-serve basis.
La Tran-K Band will perform at The New Orleans Jazz Museum's Balcony Courtyard concert series on Tuesday at 5 p.m. CDT. Bring your blanket! Seats are not provided for outdoor programs.
In case of inclement weather, this concert will be postponed.  
La Tran-K Band is a Metairie-based Latin music band that performs a diversity of rhythms including Salsa, Merengue, Cumbia, ChaCha, Bachata, and more!
Enjoy Jazz Music from home with the New Orleans Jazz Museum! Join the Jazz Museum online for their weekly Courtyard Live-Stream Concert Series, in which dynamic musicians perform live from the Jazz Museum's balcony! Tune in every Tuesday at 5 p.m. on facebook.com/nolajazzmuseum/live to watch for free.

 
Hispanic Heritage Month Schedule
Tuesday, September 19, 2023 - Balcony Concert at 5:00 pm 
La Tranka Band 
Friday, September 22, 2023 at 2:00 pm
Los Gatos del Sur 
Friday, September 29, 2023 at 2:00 pm
Jaleo Flamenco
Friday, October 6, 2023 at 2:00 pm 
Los Güiros 
Tuesday, October 10, 2023 - Balcony Concert at 5:00 pm
Yusa & Victor Campbell - Dile Que Nola Dancers
Friday, October 13, 2023 at 2:00 pm
Oscar Lineros