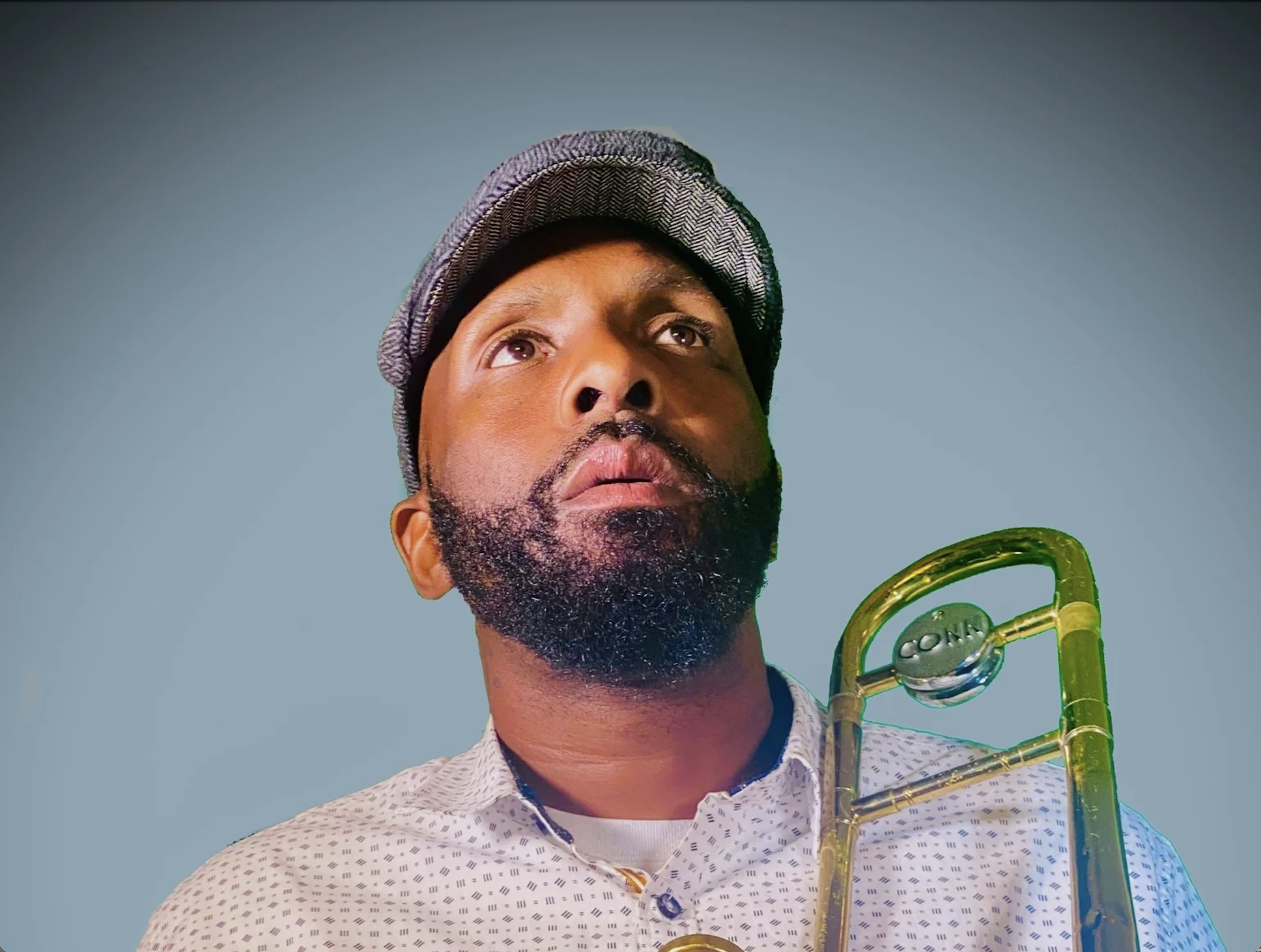 Steve Walker "Midnight Cocktails" Album Release Event LIVE From the Jazz Museum Balcony!
Tue, Sep 12, 2023 - Tue, Sep 12, 2023
Orleans Jazz Museum at Old U.S. Mint
Steve Walker will perform at The New Orleans Jazz Museum's Balcony Courtyard concert series on Tuesday at 5 p.m. CDT to promote the release of his new album, Midnight Cocktails. Bring your blanket! Seats are not provided for outdoor programs.
In case of inclement weather, this concert will be postponed.  
Enjoy Jazz Music from home with the New Orleans Jazz Museum! Join the Jazz Museum online for their weekly Courtyard Live-Stream Concert Series, in which dynamic musicians perform live from the Jazz Museum's balcony! Tune in every Tuesday at 5 p.m. on facebook.com/nolajazzmuseum/live to watch for free.

 
Steve Walker
Born and raised in the city of New Orleans, Stephen Walker, a local trombonist, began playing music at the young age of 5. His father was a preacher who gave instruments to the children in church because he did not have musicians at the time. His father encouraged the children in church to play music while he preached the gospel to the congregation. This is where Stephen Walker's musical journey began in the roots of gospel music. He started playing the piano, the clarinet and the trumpet, but by the age of 12 he picked up the trombone. He selected the trombone because it was easy to assemble but he later found out it was a very intricate instrument to play. Stephen began playing trombone in the church, then later joined the parades and the second line bands in the streets of New Orleans. He became really, great on the instrument that the band teacher picked him as a drum major in junior high school.  Being the drum major of Gregory Junior High School marching band, he was instrumental in leading the band throughout the football games and the city-wide parades. His love for music inspired him to attend the New Orleans Center for Creative Arts alongside of a wealth of talented musicians in the city. At the age of 16, his talent has taken him on his first international tour to Greece with Grammy award winning trumpeter Irvin Mayfield. One of his biggest musical inspirations was his teacher Grammy award winning producer and trombonist, Delfeayo Marsalis, who he later shared the stage with. Stephen Walker has played, recorded and composed music with a wealth of locally known New Orleans musicians. He is also known as one of the elite trombone players hailing from the city of New Orleans. He has shared the stage with local home-grown talented musicians such as Harry Connick Jr, Brandford Marsalis, Nicholas Payton, Kermitt Ruffins, Trombone Shorty, Davell Crawford, Irvin Mayfield,  Deacon John, Doreen Ketchens, Shannon Powell, James Andrews, Herlin Riley, Bob French, Leon "Kidd Chocolate" Brown, Calvin Johnson, Leroy Jones, Shamarr Allen and many more. Stephen Walker has performed many festivals around the world, including the annual New Orleans Jazz and Heritage Festival, French Quarter Festival, Satchmo Festival and so many more. He has toured internationally with multiple bands from France to Scotland and Japan. You can find Stephen Walker playing trombone around the city of New Orleans as well as some tourist spots such as The Preservation Hall, Mahogany Jazz Hall, d.b.a, Snug Harbor, The Spotted Cat and the Blue Nile. One of the most notable attributed of Stephen Walker's is his ability to diversify his repertoire. Rooted in Gospel music has given him the foundation to branch out in all styles of music such as traditional jazz, bebop, funk, second line brass band, modern jazz, Latin and contemporary jazz music. His compositions range from the 1920's up until modern day times. Stay tuned to the musical journey of trombonist Stephen James Walker.