African Dance in New Orleans Online Course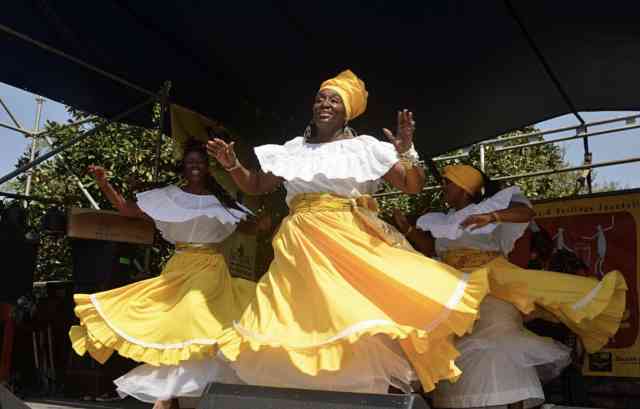 The Presbytere
Greater New Orleans
New Orleans
Event Date
:
Repeats every week every Wednesday 6 times.
Wednesday, February 24, 2021
,
Wednesday, March 3, 2021
,
Wednesday, March 10, 2021
,
Wednesday, March 17, 2021
,
Wednesday, March 24, 2021
,
Wednesday, March 31, 2021
The Louisiana State Museum is excited to offer a FREE online, six-week dance course for adults ages 18+, led by teaching artist Ausettua AmorAmenkum. Offered in conjunction with the exhibition Mystery in Motion: African American Masking and Spirituality in Mardi Gras, this course will explore African traditions and influences on New Orleans culture and dance.
Students will learn the fundamental techniques and rhythm patterns of basic traditional African and African American dances and explore the dances of Congo Square. Bring your enthusiasm, desire and commitment to an hour of engaging movement to live drumming. Classes are structured to ensure students are empowered to execute demonstrated techniques. All sessions are interactive and highly contagious, and no experience is required!
About the Teaching Artist
Ausettua AmorAmenkum is a cultural educator, professor of African and Hip-Hop Dance, Big Queen of the Washitaw Nation Black Masking Indians, director of Kumbuka African Drum & Dance Collective, and co-director of the Graduates, a performance group of formerly incarcerated women. She is committed to the preservation, presentation and documentation of African and African American culture. Ausettua firmly believes in the power of the arts to heal, educate and motivate community to engage and organize for social change.
To register, contact Sara Lowenburg, Manager of Education, at [email protected] or 985-249-1136. This course is free and no previous experience is required, but students must have internet and computer access. The classes will meet over Zoom.
Wednesdays,  February 24 - March 31
2:00 p.m. – 3:30 p.m.
Culminating Event: Wednesday April 7, 2:00 p.m. in Congo Square, if it is COVID-safe to do so
Photo by Kim Welsh