African Influence in Black Masking Traditions: A Conversation with Curators at the Musée du Quai Branly–Jacques Chirac of Paris and Southern University at New Orleans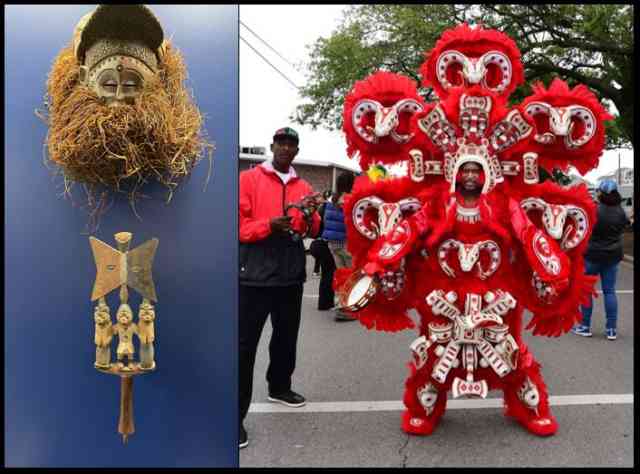 The Presbytere
Greater New Orleans
New Orleans
Event Date
:
Sunday, May 16, 2021
Scholars from the Musée du Quai Branly–Jacques Chirac and SUNO and the guest curators of the current exhibition Mystery in Motion: African American Masking and Spirituality in Mardi Gras will discuss loaned artifacts from these institutions on display that highlight African and Caribbean influences on New Orleans carnival. Panelists will explore how contemporary Black masking rituals build upon and reflect African spiritual practices and discuss the inspiration and collaborative process behind Mystery in Motion. A version of the exhibition will travel to the Musée du Quai Branly–Jacques Chirac in 2022, where curators will contextualize the Black masking traditions of New Orleans for European audiences.
This program is sponsored by the Friends of the Cabildo and offered in conjunction with the exhibition Mystery in Motion: African American Masking and Spirituality in Mardi Gras, currently on display at the Presbytère.
The event will take place over Zoom on Sunday, May 16 at 1:00 p.m. CDT and is free and open to the public. Advanced registration is required, and a Zoom link will be sent to registrants the day of the program. Please register here: https://forms.gle/X9SHauxzzJY7uXbm7
About the Panelists
Steve Bourget is curator for the Americas at the Musée du Quai Branly – Jacques Chirac in Paris, France. As an archaeologist specializing in Ancient Andean cultures, his research focuses on ideology, symbolic systems of representation and the rise of social complexity on the Peruvian North Coast. In collaboration with Professor Kim Vaz-Deville and Big Chief Victor Harris, he is preparing the upcoming exhibition, provisionally entitled "Black Indians of New Orleans." Along with a host of artistic, cultural, and scholarly activities, it will be presented at the Musée du Quai Branly in the fall of 2022.
Gaëlle Beaujean is curator in charge of African collections at the Musée du Quai Branly in Paris. She's an anthropologist of arts (PhD), focusing on the court art of Abomey (Benin). She was also the curator of "Artists of Abomey: dialog on the African Kingdom" in 2009 and "Africa's roads" in 2017, both at the Musée du Quai Branly. She is preparing a research project and an exhibition on the Dakar-Djibouti ethnographic mission (1931–1933) in close collaboration with the Museum of Black Civilizations in Dakar (Senegal). She also teaches History of Sub-Saharan African Art at the École du Louvre.
Erika N. Witt is the interim circulation librarian, adjunct professor, and keeper of collections at Southern University at New Orleans, engaged primarily with collections management and the circulation of library materials. Her focus is on the arts of Africa and museology. Erika has developed numerous art and history exhibitions and cared for various collections in Tennessee, Louisiana, and Virginia. She is currently a doctoral candidate in the Doctor of Design in Cultural Preservation program at Louisiana State University, exploring traditional African art held at historically black colleges and universities.
Co-curator Kim Vaz-Deville is professor of education at Xavier University. Her research focuses on expressive arts in response to social response to social trauma. Her book The 'Baby Dolls': Breaking the Race and Gender Barriers of the New Orleans Mardi Gras Tradition (2013) was the basis for a Louisiana State Museum exhibition and selected for One Book One New Orleans. Her anthology Walking Raddy: The Baby Dolls of New Orleans (2018) further explored the tradition. She is currently collaborating with Norman Francis, Xavier's longtime president, on his biography.
Co-curator Ron Bechet is Victor H. Labat Professor of Art at Xavier University, where he has taught for more than twenty years. Known for intimate large-scale drawings and paintings, he earned an MFA at Yale University. His art is grounded in the cultural practices of the African diaspora and African American New Orleans. He is chair of the board of directors for the Joan Mitchell Foundation and serves on the boards of the Ogden Museum of Southern Art and Antenna Works.
Karen Leathem has served as historian at the Louisiana State Museum for nearly two decades, researching and developing exhibitions, including the Presbytere's permanent Mardi Gras exhibit and Living with Hurricanes: Katrina and Beyond. She also collaborated with Kim Vaz-Deville for her 2013 LSM exhibit, "They Call Me Baby Doll": A Mardi Gras Tradition. A native of southwest Louisiana, she began researching New Orleans carnival while earning her PhD at the University of North Carolina at Chapel Hill.
Images: (right)) Shaka Zulu, Big Chief of the Golden Feather Hunters, Super Sunday. This suit honors the Yoruba orisha Shango, a spirit in the West African religious tradition. Cheryl Gerber Photo, 2018. (top, left) Initiation mask, unidentified Kwese artist (Democratic Republic of the Congo), twentieth century. Loaned by Southern University at New Orleans, African Art Collections. (bottom, left) Ibeta, spirit of triplets, unidentified artist, Porto Novo, Benin, early twentieth century. Loaned by Musée du Quai Branly–Jacques Chirac.