Closing Celebration: Mystery in Motion: African American Masking and Spirituality in Mardi Gras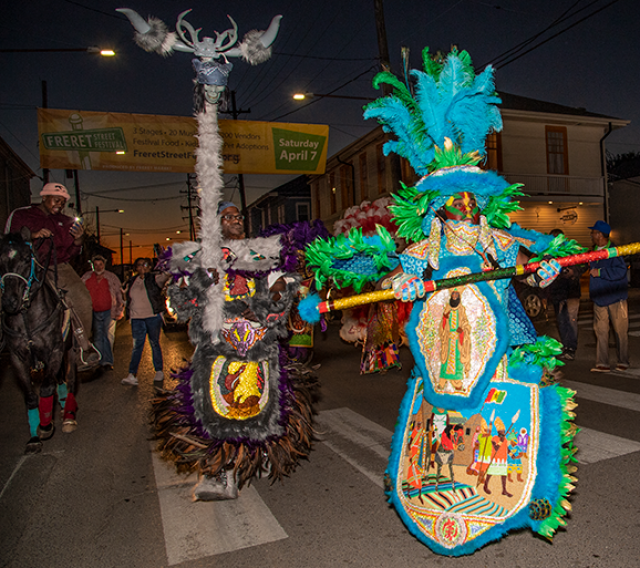 The Presbytere
Greater New Orleans
New Orleans
Event Date
:
Thursday, November 18, 2021
Celebrate the closing of Mystery in Motion: African American Masking and Spirituality in Mardi Gras with performances from Bruce "Sunpie" Barnes, Big Chief of the Northside Skull and Bone Gang, Big Chief Shaka Zulu of the Golden Feather Hunters, award-winning percussionist Bill Summers, and Kalea Cook, Xavier University music major.
From 6:00 – 8:00 p.m. CST, attendees will explore the exhibition, hear closing remarks from co-curators Kim Vaz-Deville and Ron Bechet, and mark the celebration with blessings from Peteh Muhammad Haroon, Trail Chief of the Golden Feather Hunters, and Ausettua AmorAmenkum, New Orleans spiritualist and Big Queen of the Washitaw Nation. 
Mystery in Motion explores how Black masking Indians, skeleton gangs, Baby Dolls, and the traditional parade krewes Oshun and Nefertiti incorporate spiritual themes from a variety of sources to create profound Mardi Gras masks, costumes and rituals, grounded in shared experience. It is on display at the Presbytère through November 28, 2021.
This program is made possible by the Friends of the Cabildo and the Louisiana Museum Foundation. It is free and open to the public, and guests are invited to wear festive attire. 
Image: Floyd Edwards, Spy Boy of the Golden Eagles, St. Joseph's Night, 2019. Photo by Erika Goldring.