Post-Pandemic Ideas about the Good Life: An Afternoon of Reflection and Meditation with Sacred Visual Art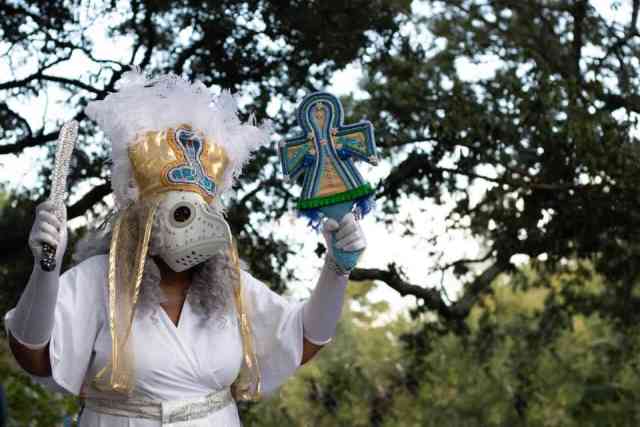 The Presbytere
Greater New Orleans
New Orleans
Event Date
:
Saturday, November 20, 2021
Join us for an afternoon of performance, reflection, and discussion as artists and creators in the Black masking tradition reflect on their responses to Covid-19 pandemic. They will share inspirations, reflections, decisions, and activities from this period, particularly those centered on Mardi Gras activities and regalia. Throughout the afternoon, participants will consider how priorities have shifted—how are they forming healthier relationships with the environment and their community, and what does "the good life" look like now?
Participants will hear from panelists Michael Mastrogiovanni, Demond Melancon, Cherice Harrison-Nelson, Dartanya Croff, Carol Harris, and Keshuna Jones-Lee, view their work, participate in break out discussions, and conclude with a reflective concert featuring Shaka Zulu.
This program is offered in connection with the exhibition Mystery in Motion: African American Masking and Spirituality in Mardi Gras, on display at the Presbytère through November 28. It is made possible through the Good Life Project, an initiative of Morgan State University's Center for the Study of Religion and the City (CSRC) with support from the Henry Luce Foundation. (https://www.religionandcities.org/) 
It is free and open to the public, but advanced registration is required. Please register here: https://forms.gle/VksLkhQsBF9YrgMt8
1:00 p.m. – 4:00 p.m. at the Cabildo
View the exhibition at the Presbytère 12:00 p.m. – 1:00 p.m.
About the Panelists and Performers
Michael Mastrogiovanni has shared his lamentations and coping with the pandemic through unique photography effects. He regularly photographs the second-line parades of Black New Orleans social aid and pleasure clubs, Mardi Gras festivities, and other events featuring the city's Black maskers. His photographs are included in the Historic New Orleans Collection's exhibition catalog Dancing in the Streets: Social Aid and Pleasure Clubs of New Orleans.
Big Chief Demond Melancon of the Young Seminole Hunters is featured in Mystery in Motion with a video documentary and photographs of his trio of suits in honor of Ethiopian ruler Haile Selassie, whom Rastafarians regard as a deified emperor. In observance of a Mardi Gras devoid of normal activities due to the pandemic, Big Chief Melancon placed his 2020 Selassie-themed suit, Jah Defender, on the pedestal that once held a monument to Jefferson Davis, continuing the tradition of resistance among Black maskers.
Cherice Harrison-Nelson is Maroon Queen of the Guardians of the Flame Maroon Society, a narrative bead artist, and cognitive provocateur exploring the intersection of art activism and advocacy. She made fifty appearances as the "Plague Doctor"— a commentary on the "plague" of systemic racism— in the two months prior to the 2020 presidential election. She is featured in Mystery in Motion wearing her regalia in homage to Obatala, a West African deity.
Dartanya Croff is a fiber artist and licensed tour guide in New Orleans, leading tourists through the city's famous cemeteries. She crocheted and sold protective face masks as she experienced dwindling economic opportunities during the initial COVID-19 shutdown.  Part of her healing includes reflecting on the loss of life that happened with the collapse of the Hard Rock Hotel in New Orleans a few months prior to the pandemic. Her hand-crocheted costume, a tribute to Josephine Baker and the Yoruba goddess Oshun worn in the 2020 Krewe of Goddesses parade, is on display in Mystery in Motion.
Carol Harris, better known as Baby Doll Kit, is the founder of the Black masking group N'awlins D'awlins  Baby Dolls. She is instrumental in the annual Blessing of the Street, welcoming new Baby Doll maskers performing for their first Mardi Gras. She is an organizer of the Baby Doll Juneteenth commemoration held each June. She lost her mother Mary "Grams" Braud Harris and maternal aunt Clarice "Reecie" Braud Willis to Covid-19. Due to restrictions on gatherings at that point of the pandemic, her Afro-Creole family had to forego a second-line funeral, an essential expression of grief. Instead, she devised new ways to continue her family's mourning traditions.
Keshuna Jones-Lee is an actress, singer, educator, casting director, arts administrator, and religious culture bearer in New Orleans. She has a BA in theater performing arts and speech communication from Dillard University and an MA in arts administration from the University of New Orleans. She is a practicing Catholic and has studied various traditional African religions, such as Ifa and Odinani. Jones-Lee has been a member of the Krewe of Oshun for five years and serves as a public relations officer.
Big Chief Shaka Zulu is a Black masking Indian and lectures on the rich history and folklore of this New Orleans tradition. As co-owner of the Golden Feather Mardi Gras Indian Gallery, he runs a unique establishment, featuring his lecture series for tourists and locals. In addition to his entrepreneurial work, Chief Shaka is a percussionist who travels around the world with his performance company, Zulu Connection. An innovator in African traditions, Chief Shaka was also the first to mask as a Mardi Gras Indian stilt dancer. Committed to the growth and educational prosperity of New Orleans youth, Big Chief Shaka also manages and is an instructor for the youth summer cultural enrichment camp of Better Family Life.
About the Moderator
Kim Vaz-Deville is professor of education at Xavier University of Louisiana and co-curator of the exhibition Mystery in Motion: African American Masking and Spirituality in Mardi Gras. Her research focuses on expressive arts in response to social trauma. Her book The 'Baby Dolls': Breaking the Race and Gender Barriers of the New Orleans Mardi Gras Tradition (2013) was the basis for a Louisiana State Museum exhibition and selected for One Book One New Orleans. She was the co-curator on They Call Me Baby Doll: A Mardi Gras Tradition at the Louisiana State Museum in 2013 and co-curator of Contemporary Artists Respond to the New Orleans Baby Dolls at the Leah and George McKenna African American Museum in 2015. Her anthology Walking Raddy: The Baby Dolls of New Orleans (2018) further explored the tradition. She is currently collaborating with Norman Francis, Xavier's longtime president, on his biography. 
Image of Cherice Harrison-Nelson as the "Plague Doctor" by Rick Tringali - Jazz Crawl Productions @jazzcrawl