A Virtual Evening with the Curators: Mystery in Motion: African American Masking and Spirituality in Mardi Gras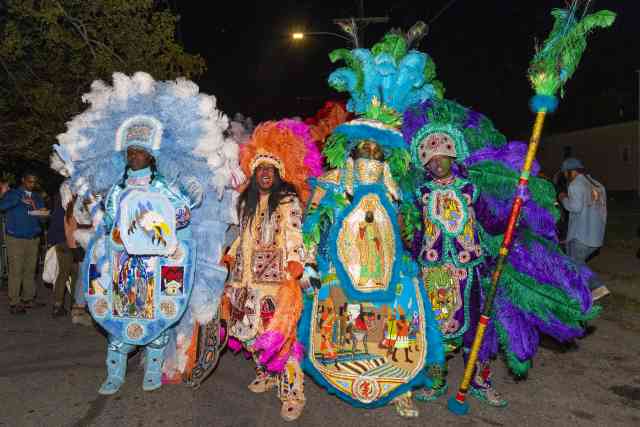 The Presbytere
Greater New Orleans
New Orleans
Event Date
:
Thursday, February 25, 2021
Celebrate the opening of the exhibition Mystery in Motion: African American Masking and Spirituality in Mardi Gras, with guest curators Kim Vaz-Deville and Ron Bechet. The exhibition explores the history and diverse spiritual influences of Black masking traditions, including Black masking Indians, Baby Dolls, and skull and bone gangs, with more than two dozen suits and masking components displayed, along with African artifacts. The curators will share highlights from the exhibition and insights into the curatorial process in a conversation moderated by museum historian Karen Leathem.
This event will take place at 6:00 PM CST over Zoom and is free and open to the public. Advanced registration is required, and a Zoom link will be sent to registrants the day of the program. Please register here: https://forms.gle/KCNq8isoYjGAHtw88
The exhibition opens to the public at the Presbytère on February 13, 2021.
About the Curators
Co-curator Kim Vaz-Deville is professor of education at Xavier University. Her research focuses on expressive arts in response to social response to social trauma. Her book The 'Baby Dolls': Breaking the Race and Gender Barriers of the New Orleans Mardi Gras Tradition (2013) was the basis for a Louisiana State Museum exhibition and selected for One Book One New Orleans. Her anthology Walking Raddy: The Baby Dolls of New Orleans (2018) further explored the tradition. She is currently collaborating with Norman Francis, Xavier's longtime president, on his biography.
Co-curator Ron Bechet is Victor H. Labat Professor of Art at Xavier University, where he has taught for more than twenty years. Known for intimate large-scale drawings and paintings, he earned an MFA at Yale University. His art is grounded in the cultural practices of the African diaspora and African American New Orleans. He is chair of the board of directors for the Joan Mitchell Foundation and serves on the boards of the Ogden Museum of Southern Art and Antenna Works.
Image: (left to right) Jerome "JJ" Carter, J'wan Boudreaux, Floyd Edwards, and Nigel Pleasant of the Golden Eagles Photograph by Erika Goldring, 2019