Virtual Evening with Sarah M. Broom, Author of The Yellow House, with Leslie M. Harris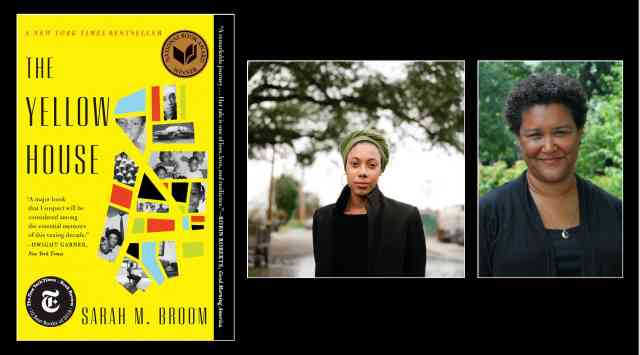 The Presbytere
Greater New Orleans
New Orleans
Event Date
:
Thursday, September 24, 2020
Please note: this program has been RESCHEDULED to Thursday, September 24.
The Louisiana State Museum is proud to present a virtual evening with Sarah M. Broom, author of "The Yellow House," 2019 National Book Award winner, in conversation with historian Leslie M. Harris. "The Yellow House" centers around Broom's childhood home, a yellow shotgun house in New Orleans East, which was ultimately destroyed in Hurricane Katrina. Through this intimate examination of family life, Broom highlights the lesser known history of New Orleans East and explores themes of race, inequality, erasure, and resistance. This event is free and requires advances registration. Please register here to receive the Zoom invitation: https://forms.gle/36RRXqtqUEJhQ9CU8
Thursday, September 24, 2020 at 6 PM – 7:30 PM
The Yellow House is available for purchase through the 1850 House Museum Store.
More about "The Yellow House"
In 1961, Sarah M. Broom's mother Ivory Mae bought a shotgun house in the then-promising neighborhood of New Orleans East and built her world inside of it. It was the height of the Space Race, and the neighborhood was home to a major NASA plant—the postwar optimism seemed assured. Widowed, Ivory Mae remarried Sarah's father, Simon Broom; their combined family would eventually number twelve children. But after Simon died, six months after Sarah's birth, the Yellow House would become Ivory Mae's thirteenth and most unruly child.
A book of great ambition, Sarah M. Broom's "The Yellow House" tells a hundred years of her family and their relationship to home in a neglected area of one of America's most mythologized cities. This is the story of a mother's struggle against a house's entropy, and that of a prodigal daughter who left home only to reckon with the pull that home exerts, even after the Yellow House was wiped off the map after Hurricane Katrina. The Yellow House expands the map of New Orleans to include the stories of its lesser-known natives, guided deftly by one of its native daughters, to demonstrate how enduring drives of clan, pride, and familial love resist and defy erasure. Located in the gap between the "Big Easy" of tourist guides and the New Orleans in which Broom was raised, "The Yellow House" is a brilliant memoir of place, class, race, the seeping rot of inequality, and the internalized shame that often follows. It is a transformative, deeply moving story from an unparalleled new voice of startling clarity, authority, and power.
About Sarah M. Broom
Sarah M. Broom is a writer whose work has appeared in the New Yorker, New York Times Magazine, Oxford American, and O Magazine, among others. She is the recipient of the National Book Award for Nonfiction and the John Leonard Prize for Best First Book for her memoir, "The Yellow House." A native New Orleanian, she received her Master's in Journalism from the University of California, Berkeley in 2004. She was awarded a Whiting Foundation Creative Nonfiction Grant in 2016 and was a finalist for the New York Foundation for the Arts Fellowship in Creative Nonfiction in 2011. She has also been awarded fellowships at Djerassi Resident Artists Program and The MacDowell Colony. She lives in Harlem.
About Leslie M. Harris
Leslie M. Harris, professor of history at Northwestern University, is the author or co-editor of three award-winning books: "In the Shadow of Slavery: African Americans in New York City, 1626–1863" (University of Chicago Press, 2003); co-editor with Ira Berlin of "Slavery in New York" (New Press, 2005), which accompanied the groundbreaking New-York Historical Society exhibition of the same name; and "Slavery and Freedom in Savannah" (University of Georgia Press, 2014), co-edited with Daina Ramey Berry, in collaboration with Telfair Museums' Owens-Thomas House. Harris has recently published "Slavery and Sexuality: Reclaiming Intimate Histories in the Americas" (University of Georgia Press, 2018), with Daina Ramey Berry; and "Slavery and the University: Histories and Legacies" (University of Georgia Press, 2019) with James T. Campbell and Alfred L. Brophy. As the 2020–21 Beatrice Shepherd Blane fellow at the Radcliffe Institute for Advanced Study at Harvard University, she will complete a book on late-twentieth century New Orleans, entitled "Leaving New Orleans: A Personal Urban History."