Voodoo and Spirituality in Black Masking Traditions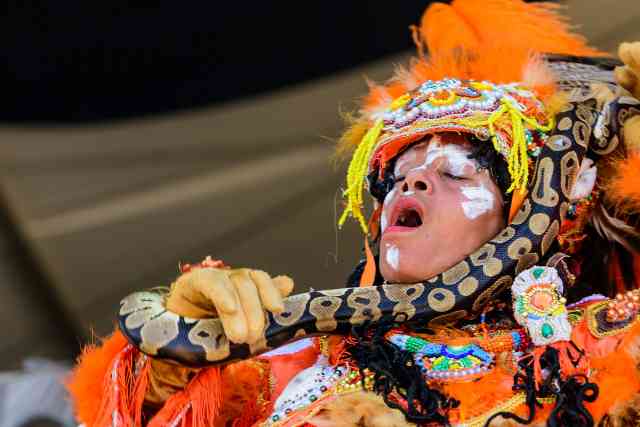 The Presbytere
Greater New Orleans
New Orleans
Event Date
:
Thursday, August 5, 2021
Join us for an evening exploring the spiritual connections and influence of Voodoo in Black Masking Traditions, moderated by curator Kim Vaz-Deville. Hosted in connection with the current exhibition Mystery in Motion: African American Masking and Spirituality in Mardi Gras, panelists will share how their spiritual practices have shaped their paths as Black masking Indians, parade members, and leaders in carnival traditions. Since at least the 1800s, Voodoo beliefs and rituals have been intertwined with Mardi Gras masking traditions. Panelists will explore how the history and legacy of Voodoo in New Orleans have influenced their practices as well as discuss how they incorporate contemporary spirituality into carnival as current practitioners.
This event is free and open to the public and will take place at 6:00 p.m. at the Presbytère, 751 Chartres St. in Jackson Square. UPDATE: This talk is now happening on Zoom. A Zoom link will be sent to registrants the day of the program. Preregistration is encouraged. Please register here: https://forms.gle/6vR8CbgV8kgr4CAu7
Image: "Resa "Cinnamon Black" Bazile, Big Queen of the Spirit of Fi Yi Yi and the Mandingo Warriors,"
Photo by David Kabot
 
About the Panelists
KeShuna Jones-Lee is a world-renowned actress, singer, educator, casting director, arts administrator, and religious culture bearer from New Orleans. She has a BA in theater performing arts and speech communication from Dillard University and an MA in arts administration from the University of New Orleans. Jones-Lee has performed in plays, including Broadway's Ain't Misbehavin', Shakin' the Mess Outta Misery, and For Colored Girls Who Have Considered Suicide/When the Rainbow Is Enuf., and has sung with Shades of Praise New Orleans Interracial Gospel Choir, the New Orleans Black Chorale, and the New Orleans Opera. She is a practicing Catholic and she has studied various African traditional religions, such as Ifa and Odanini. Jones-Lee has been a member of the Krewe of Oshun for five years and serves as a public relations officer. She participated as a rider in the Zulu parade for twenty years as a Diamond Cutter.
The Divine Prince Ty Emmecca is a high-profile psychic, spiritualist, advisor, practitioner, minister, and sought-after practitioner in New Orleans Voodoo culture and tradition. He has been a resident of New Orleans for twenty-three years and is an actor and cultural performer in the historic Tremé neighborhood. He is a longtime member of and advisor to the Congo Square Preservation Society, and he is a Black masking Indian. As a a former evangelical minister of music, the Divine Prince has been ministering in African traditional religious systems for more than thirty-five years. He has been featured on Buried Worlds with Don Wildman, Monstrum, and Atlas of Cursed Places, among other movies, TV shows, and documentaries. His suits are featured in the current exhibition, Mystery in Motion: African American Masking and Spirituality in Mardi Gras, at the Presbytère.
Big Chief Alfred Doucette is a lifelong New Orleanian and man of many talents. who has worked as a carpenter, race car driver, horseman, nightclub owner, musician, and Black masking Indian. In the 1970s, he and his brothers owned the clubs Nite Cap 1 and Nite Cap 2, which hosted such acts as the Meters, the Neville Brothers, Marvin Gaye, and Deacon John. As race car builders and drivers, they were the first African Americans to integrate the track at Hattiesburg, Mississippi, and they raced in Louisiana, Texas, and Alabama. Big Chief Doucette began sewing suits as a Black masking Indian in 1989. His 2001 Marie Laveau suit depicted a graveyard scene of the Voodoo queen. He was inspired to create the song "Marie Laveau" in 1998 after the revered Voodoo queen came to him in a dream. Big Chief Doucette has performed songs from his Marie Comin Out EP with acts such as Bamboula 2000, James Andrews, Trombone Shorty, Dr. John, Cyril Neville, Kermit Ruffins, and the Dirty Dozen Brass Band. He has performed at venues around the city and at the New Orleans Jazz and Heritage Festival, French Quarter Fest, and Satchmo Summerfest.
Resa "Cinnamon Black" Basile is a cultural ambassador, entertainer, Big Queen in the Spirit of Fi Yi Yi and Mandingo Warriors Black masking Indian tribe, and a Voodoo practitioner and reader at the New Orleans Historic Voodoo Museum. She is a cultural consultant for documentaries, film industry projects, and media outlets such, as ESPN, SPIKE TV, the Travel Channel, and fusion.net. She was also the producer of New Orleans Live, which aired on the cable access channel NOA-TV. She has danced with N'kafu Traditional African Dance Company and Casa Samba, a Brazilian dance company, both based in New Orleans. Basile masks as a renegade-style Baby Doll and has masked with the Gold Digger Baby Dolls and the Tee Eva–Ernie K-Doe Baby Dolls. She has masked with family and sister groups and has founded several groups of Baby Dolls, including the now-defunct New Orleans Baby Dollsand the well-known Treme Million Dollar Baby Dolls.
About the Moderator
Kim Vaz-Deville is professor of education at Xavier University of Louisiana and co-curator of the exhibition Mystery in Motion: African American Masking and Spirituality in Mardi Gras. Her research focuses on expressive arts in response to social trauma. Her book The 'Baby Dolls': Breaking the Race and Gender Barriers of the New Orleans Mardi Gras Tradition (2013) was the basis for a Louisiana State Museum exhibition and selected for One Book One New Orleans. Her anthology Walking Raddy: The Baby Dolls of New Orleans (2018) further explored the tradition. She is currently collaborating with Norman Francis, Xavier's longtime president, on his biography.