Wicked Flesh: Black Women, Intimacy, and Freedom in the Atlantic World with Jessica Marie Johnson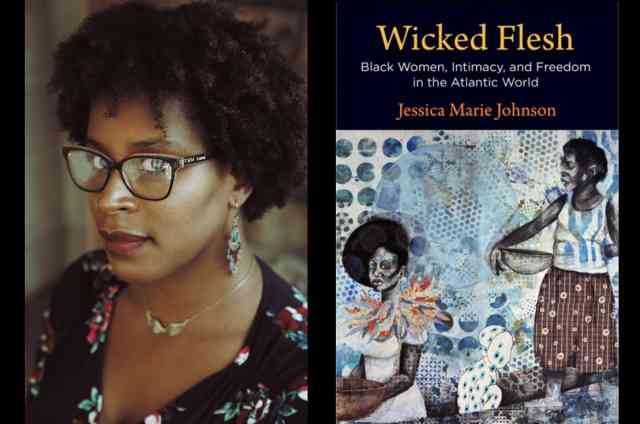 The Presbytere
Greater New Orleans
New Orleans
Event Date
:
Thursday, July 8, 2021
Join us for an evening with Dr. Jessica Marie Johnson as she discusses her recent book Wicked Flesh: Black Women, Intimacy, and Freedom in the Atlantic World (University of Pennsylvania Press, 2020). This program is sponsored by the Friends of the Cabildo as part of the Second Thursday Lecture Series. It is free and open to the public, but registration is required. The program will take place on Zoom on Thursday, July 8, 2021, 6:00 – 7:30 p.m. CDT. Please register here: https://forms.gle/SZMQ5rLSzWW2JWKf8
About the Book
In Wicked Flesh, Jessica Marie Johnson explores the nature of complicated intimate and kinship ties and how Black women used them to construct freedom in the Atlantic world. That freedom pivoted on the self-conscious choices Black women made to retain control over their bodies and selves, their loved ones, and their futures as the intimacy of bondage whet the appetites of slaveowners, traders, and colonial officials with fantasies of domination that trickled into every social relationship.  
Johnson draws on archival documents scattered across three continents, written in multiple languages and largely from the perspective of colonial officials and slave-owning men, to re-create Black women's experiences from Senegal and French Saint-Domingue to Spanish Cuba and the swampy outposts of the Gulf Coast. Centering New Orleans as the quintessential site for investigating Black women's practices of freedom, Wicked Flesh argues that African women and women of African descent endowed free status with meaning through intimate and kinship practices. Their stories outline a practice of freedom that laid the groundwork for the emancipation struggles of the nineteenth century and reshaped the New World.
About the Author
Jessica Marie Johnson is an assistant professor in the Department of History at the Johns Hopkins University. She is a historian of Atlantic slavery and the Atlantic African diaspora, and her work has appeared in the Journal of American History, the William and Mary Quarterly, and Slavery and Abolition, among others. Johnson is co-editor with Lauren Tilton and David Mimno of the Computational Humanities: Debates in the Digital Humanities series. She was guest editor of Slavery in the Machine, a special issue of the journal archipelagos (2019) and co-editor with Mark Anthony Neal of Black Code: A Special Issue of the Black Scholar (2017).