Women in Black Masking Traditions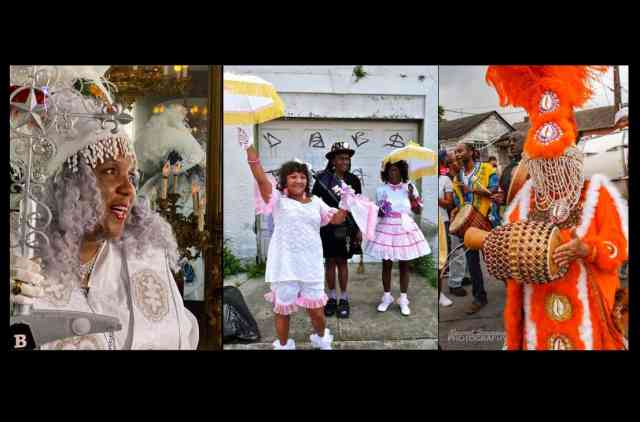 The Presbytere
Greater New Orleans
New Orleans
Event Date
:
Thursday, October 28, 2021
Join us for an evening exploring the contributions, creations, and leadership of women in Black masking traditions. Panelists Nana Sula Janet Evans, Cherice Harrison-Nelson, and Carol "Baby Doll Kit" Harris will discuss their roles as spiritual leaders, Black masking Indians, and Baby Dolls in conversation with curator Kim Vaz-Deville. They will explore how their practices celebrate tradition, challenge assumptions, and create space for women as leaders and creators within New Orleans traditions.
This program is sponsored by the Friends of the Cabildo and offered in conjunction with the exhibition Mystery in Motion: African American Masking and Spirituality in Mardi Gras, on display through November 28 at the Presbytère.
The event will take place over Zoom at 6:00 p.m. CDT and is free and open to the public. Advanced registration is required, and a Zoom link will be sent to registrants the day of the program. Please register here: https://forms.gle/uvUh7eDo59fFGt1A6
About the Panelists
Nana Sula Janet Evans is the Founding Priestess of the Temple of Light - Ile de Coin-Coin in Musicians' Village in New Orleans. The Temple of Light is a healing shrine for the elevation of all souls. Evans is a singer-songwriter, an artist, and also the author of Spirit of the Orisha, a Yoruba language and song preservation project presented as a book with a companion CD. In addition, she is a Black masking Indian and Medicine Queen with the Spirit of Fi Yi Yi and the Mandingo Warriors. 
Cherice Harrison-Nelson is an educator, narrative visual and performance artist, and arts administrator. She is the coeditor of eleven publications and has coordinated numerous exhibitions and panels on West African–inspired cultural traditions in New Orleans. Her creative expressions have been performed, presented, and exhibited locally and internationally. She is the recipient of several honors, including a Fulbright Scholarship to study in West Africa; a Louisiana Endowment for the Humanities Teacher of the Year Award, and United States Artists Fellowship. She approaches her art as a cognitive provocateur, with intentionality to engage observers through imagery and performance that simultaneously explore gender roles, classism, and other limiting/confining norms. She is the education outreach coordinator of the Donald Harrison, Sr. Museum and Big Queen of the Guardians of the Flame Maroon Society.
Carol Harris, better known as Baby Doll Kit, is an ambassador and culture bearer of New Orleans and is the founder of the N'AWLINS D'AWLINS Baby Dolls.
About the Moderator
Kim Vaz-Deville is professor of education at Xavier University of Louisiana and co-curator of the exhibition Mystery in Motion: African American Masking and Spirituality in Mardi Gras. Her research focuses on expressive arts in response to social trauma. Her book The 'Baby Dolls': Breaking the Race and Gender Barriers of the New Orleans Mardi Gras Tradition (2013) was the basis for a Louisiana State Museum exhibition and selected for One Book One New Orleans. Her anthology Walking Raddy: The Baby Dolls of New Orleans (2018) further explored the tradition. She is currently collaborating with Norman Francis, Xavier's longtime president, on his biography.
Cover images, left to right: Cherice Harrison-Nelson courtesy of 2019 Greg Gorman Photography Seminar, Carol Harris pictured with Roselyn Leonard and late renown baker Eva Adams by Charles Lovell, Janet "Sula" Evans by Vincent Simmons