Mystery in Motion: African American Masking and Spirituality in Mardi Gras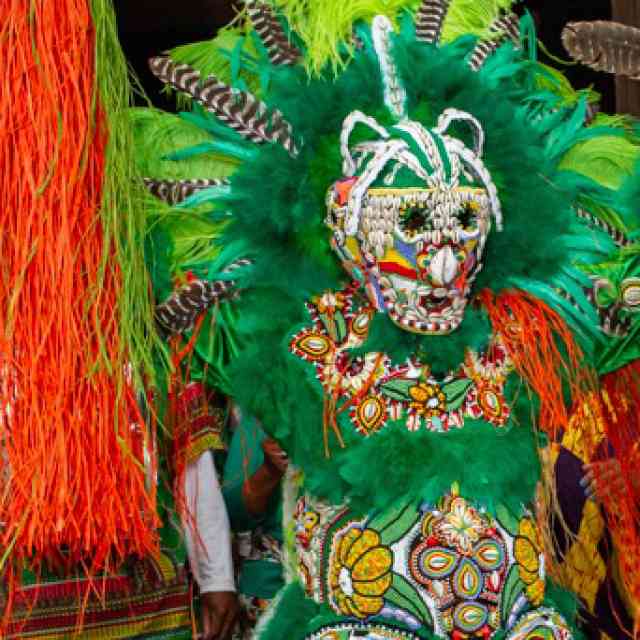 The Presbytere
Color, sound, and energy fill the streets of New Orleans on Mardi Gras. While this pageantry might seem random and frivolous to the casual observer, many carnival parades, songs, activities, costumes, and masking traditions reflect diverse cultures and even sacred creeds. This is especially true among African Americans, who have long used Mardi Gras as the framework for spiritual expressions drawn from African, Islamic, Native American, and European systems of belief.
Mystery in Motion celebrates how Black masking Indians, skeleton gangs, Baby Dolls, and the traditional parade krewes Oshun and Nefertiti incorporate spiritual themes from a variety of sources to create profound Mardi Gras masks, costumes and rituals, grounded in shared experience.
Black masking Indians embody one of the most vibrant carnival practices in New Orleans, as African American men, women, and children adorn themselves with hand-sewn suits of feathers, beads, rhinestones, and other materials. While the influence of Native American culture on these activities has often been explored, this exhibition focuses on the work of contemporary suit-makers who, like the Oshun and Nefertiti Mardi Gras parade krewes, are directly inspired by African religious and cultural practices. To highlight these creative foundations, we juxtapose locally made suits with extraordinary African works on loan from the Musée du Quai Branly–Jacques Chirac, in Paris, France, and Southern University at New Orleans.
On Mardi Gras, Black masking Indians roam their neighborhoods seeking other tribes for ritualistic battles that show off suit-making skills, singing and chanting power, and a commanding presence. Along the way, they usually encounter skeletons and Baby Dolls, who revive costuming and performative activities that date back more than a century.
Tracing their origins back to African and Caribbean sources and Voodoo spiritual influences, maskers in skeleton suits and papier-mâché skull heads are out and about by dawn in the Tremé neighborhood on Mardi Gras. These skeletons, members of the Northside Skull and Bone Gang, awaken revelers with ominous warnings like "Get your life right!" or "You next!"  
The Baby Dolls have a very different message. Following in the footsteps of African American women who defied social norms by dressing and parading in baby-doll costumes beginning in the 1910s, contemporary Baby Dolls proudly march and dance in a joyous affirmation of this tradition.
This exhibition features exceptional creations that are unique to New Orleans's Mardi Gras but also have much broader social relevance. These mysteries in motion are "solved" when understood as sartorial sanctuaries  that convey both spiritual and political liberation.
In defiance of displacement, oppression, and fear of untimely death, these garments communicate ideas about justice, transformation, healing, sensuality, and protection from life's wicked unknowns. African Americans created these powerful carnival traditions that offer a celebration of hope and renewal each year.
See this exhibition's companion website here!
 
(Image above: Victor Harris, Big Chief of Fi Yi, Photo by Vincent Simmons)
GUEST CURATORS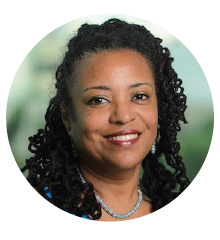 Co-curator Kim Vaz-Deville is professor of education at Xavier University. Her research
focuses on expressive arts in response to social trauma. Her book The 'Baby Dolls':
Breaking the Race and Gender Barriers of the New Orleans Mardi Gras Tradition (2013)
was the basis for a Louisiana State Museum exhibition and selected for One Book One
New Orleans. Her anthology Walking Raddy: The Baby Dolls of New Orleans (2018)
further explored the tradition. She is currently collaborating with Norman Francis,
Xavier's longtime president, on his biography.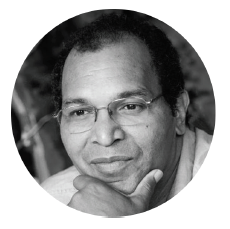 Co-curator Ron Bechet is Victor H. Labat Professor of Art at Xavier University, where he
has taught for more than twenty years. Known for intimate large-scale drawings and
paintings, he earned an MFA at Yale University. His art is grounded in the cultural
practices of the African diaspora and African American New Orleans. He is chair of the
board of directors for the Joan Mitchell Foundation and serves on the boards of the
Ogden Museum of Southern Art and Antenna Works.