Rex: The 150th Anniversary of the School of Design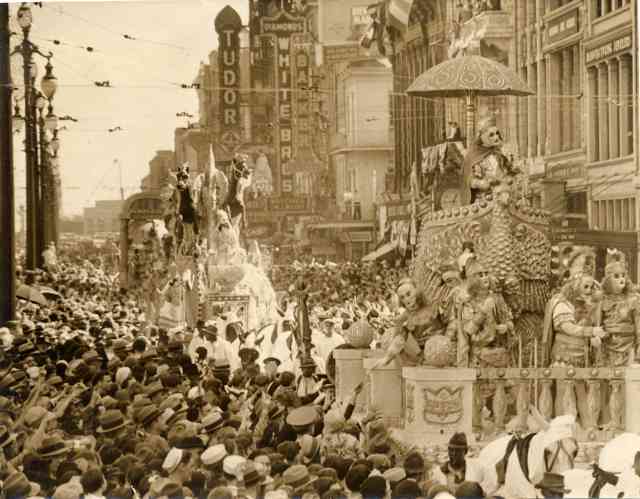 The Presbytere
February 1, 2022

to

December 11, 2022
The Louisiana State Museum is preparing a major exhibition to open in the Presbytère Museum on February 1, 2022, commemorating the milestone 150th anniversary of the Rex Organization, the foremost New Orleans Mardi Gras krewe. Since its founding in 1872, Rex has taken on an unparalleled leadership role in Carnival, setting the standard of excellence for the dozens of krewes formed since and even inspiring the formation of similar civic organizations in other states. The Rex parade was the first daytime parade in modern Carnival, and the man selected as the monarch of the organization, known also by its incorporated name, the School of Design, serves as the King of all New Orleans Carnival.
The exhibition will tell the story of Rex using the Louisiana State Museum's unrivaled collection of artifacts, heavily focusing on the sophisticated costumes of the krewe's kings, queens, and courtiers. The Museum has always prioritized preserving the artifacts of Rex and made a concerted effort beginning in the 1920s to gather costumes directly from krewe members. This collection now totals over 60 royalty and krewe costumes and gowns as well as dozens of sets of rare crown jewels. The exhibition will also feature newly discovered treasures from the krewe's past, recently acquired from European collections, along with rarely seen artifacts borrowed from private and institutional collections.
 
The exhibition will also discuss the vital civic function that the krewe has always performed since it was founded in part to boost economic development in the city during the tumultuous years of Reconstruction following the Civil War. After Hurricane Katrina devastated New Orleans in 2005, Rex assumed a crucial philanthropic mission through its Pro Bono Publico Foundation, to date funneling over $10 million to the New Orleans Public School system through the contributions of the krewe's members. Numerous kings and queens of the krewe have been honored by municipal and humanitarian organizations for their broad-ranging support of essential community causes.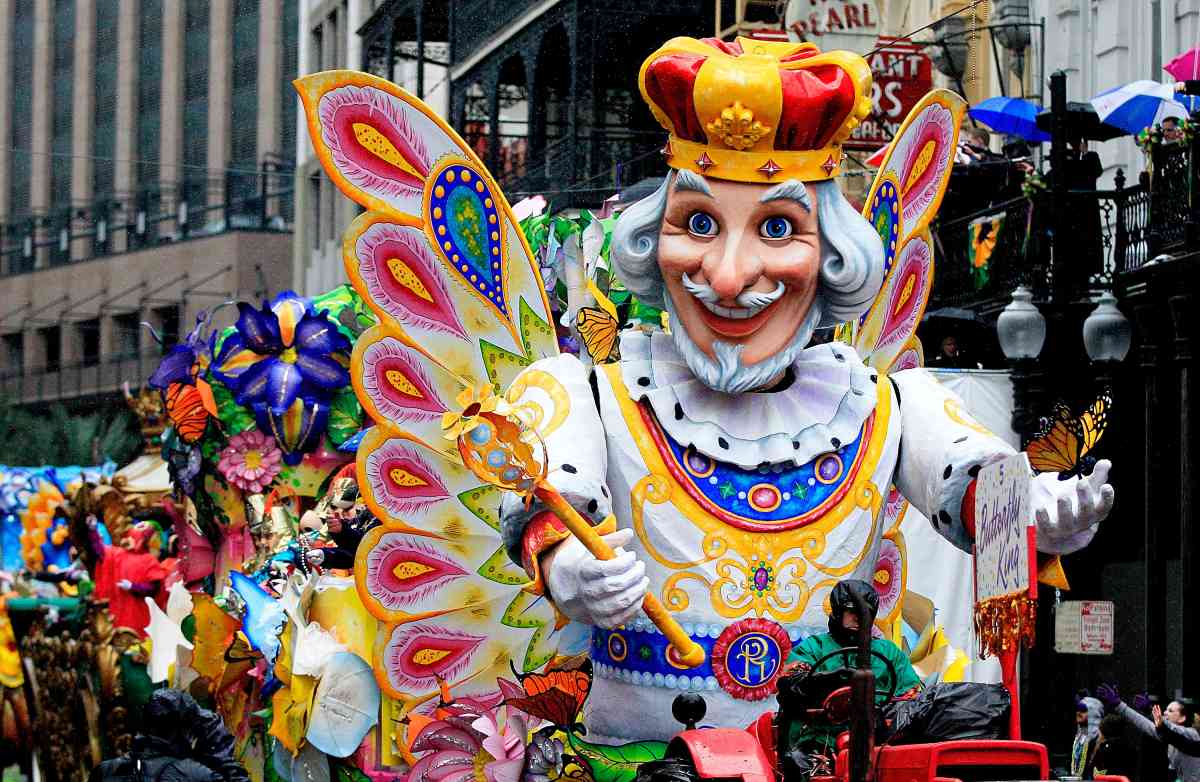 Images: (above) The Butterfly King float. Photograph by Mark J. Sindler, Louisiana State Museum,
(top, left) Rex parade on Canal Street, 1932.
An exciting feature of the exhibition will be a float built inside the Museum by the krewe's float builder, Royal Artists, demonstrating the techniques and materials used to construct the elaborate historically-inspired floats for Rex. Rare vintage films of Rex parades of decades ago will bring the spectacle to life, and lively time-lapse video showing the float-building process will shine a spotlight on the creativity and skill that go into crafting these rolling tableaux.  
A host of complementary educational programs and lectures are being planned, including hands-on activity days for families as well as sensory-friendly programs for individuals with autism and other developmental disabilities.