From Berwick Bay to Étouffée: Shrimping in Louisiana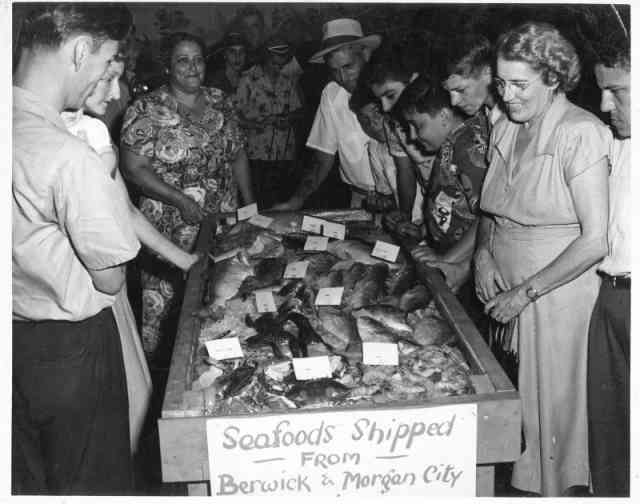 Wedell-Williams Aviation and Cypress Sawmill Museum
Between the demise of the lumber business and the rise of the oil industry, Berwick Bay experienced an unprecedented shrimp boom in the late 1930s following the "discovery" of a large school of jumbo-sized white shrimp in the Gulf of Mexico. By some accounts, Morgan City – the self-proclaimed "shrimp capital of the world" – produced about a quarter of the country's annual shrimp harvest during the boom. Almost overnight, shrimpers, many of them from Florida and the Atlantic Coast, filled the docks in and around Berwick Bay, using towns like Morgan City and Patterson as starting points for deep-water
shrimping expeditions. Simultaneously, technological innovations made it possible for shrimpers to increase the size of their catch and the length of their trips, while advances in refrigeration made it possible to transport these jumbo shrimp to cities throughout the United States.
The exhibition traces the history of the shrimping industry in St. Mary Parish from its heyday in the 1930s and 1940s through the challenges of the present era, including recent efforts to help local shrimpers cope with flooding and compete with cheaper shrimp imported from other countries. No exhibition on shrimping in St. Mary Parish would be complete without an exploration of the Louisiana Shrimp and Petroleum Festival, which attracts more than 140,000 visitors each year. The exhibit includes a recently digitized film from the Louisiana State Museum's collection featuring footage of a Blessing of
the Fleet ceremony, an integral part of the festival, from about 1959.
Most of the artifacts and images on display come from the collection of Mr. F. C. "Butch" Felterman Jr., a native of Patterson and former shrimp boat owner and captain. In 2008, Felterman and his wife, Sylvia, had Fisherman's Light, a replica of a lighthouse, built on his property on the Lower Atchafalaya River and created a small private museum. Dedicated to the men and women who were involved in the local shrimp industry, the museum features shrimp boat models, maritime equipment, photographs, and other artifacts related to the ten shrimp processing facilities that existed in Patterson between 1937 and 1988. From Berwick Bay to Étouffée: Shrimping in Louisiana brings Mr. Felterman's extensive collection to a wider audience, while also telling the story of the regional shrimp industry in its broader historical context. Few people know, for example, that shrimp fishermen played an important role in World War II. Come learn about their heroics and more at the Wedell-Williams Aviation and Cypress Sawmill Museum.
From Berwick Bay to Étouffée: Shrimping in Louisiana will be on display in the Wedell-Williams Aviation and Cypress Sawmill Museum through September 2020. The museum is located at 118 Cotten Road in Patterson and is open between 9:30 a.m. and 4:00 p.m., Tuesday through Saturday.
Image: Seafoods Shipped from Berwick and Morgan City, ca. 1940s. Courtesy of Louisiana Sea Grant.