Image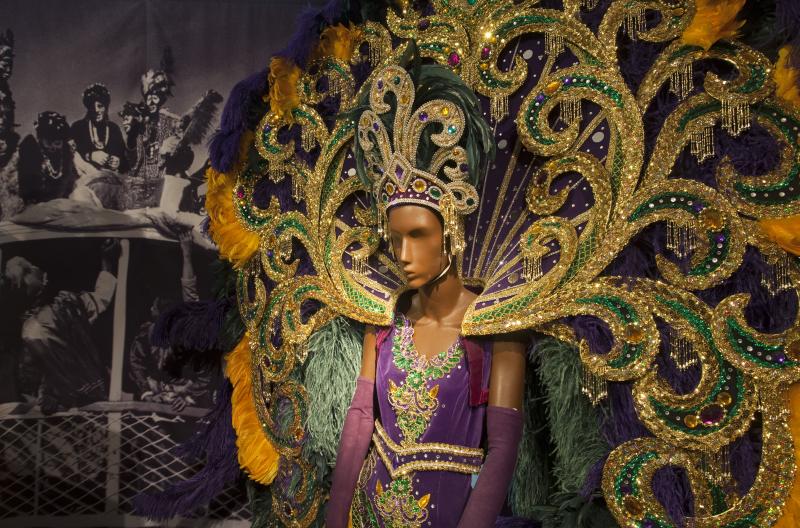 Since 1699, when Pierre Le Moyne, Sieur d'Iberville celebrated his arrival at the mouth of the Mississippi on Shrove Tuesday, Mardi Gras has been integrally linked to Louisiana's cultural heritage. The story of this extraordinary tradition is dynamically told in a ground-breaking new exhibition of the State Museum. Mardi Gras, brings together rare, historic artifacts, scores of magnificent costumes, spectacular displays, engaging videos, and hands-on activities.

Parades, Balls, and the Courir du Mardi Gras - are explored in the show. Based on original research, the exhibit traces the emergence of New Orleans' parades and balls to the present-day, statewide extravaganza that attracts millions. The vast scope of the Museum's collection appears in three focus galleries replete with ephemera. Favors, souvenirs, invitations, etc., are displayed in huge cases and "open storage" cabinets. The most dazzling focus gallery - the Crown Jewels Vault - houses an astonishing array of tiaras, scepters, necklaces, and other baubles worn by generations of royalty.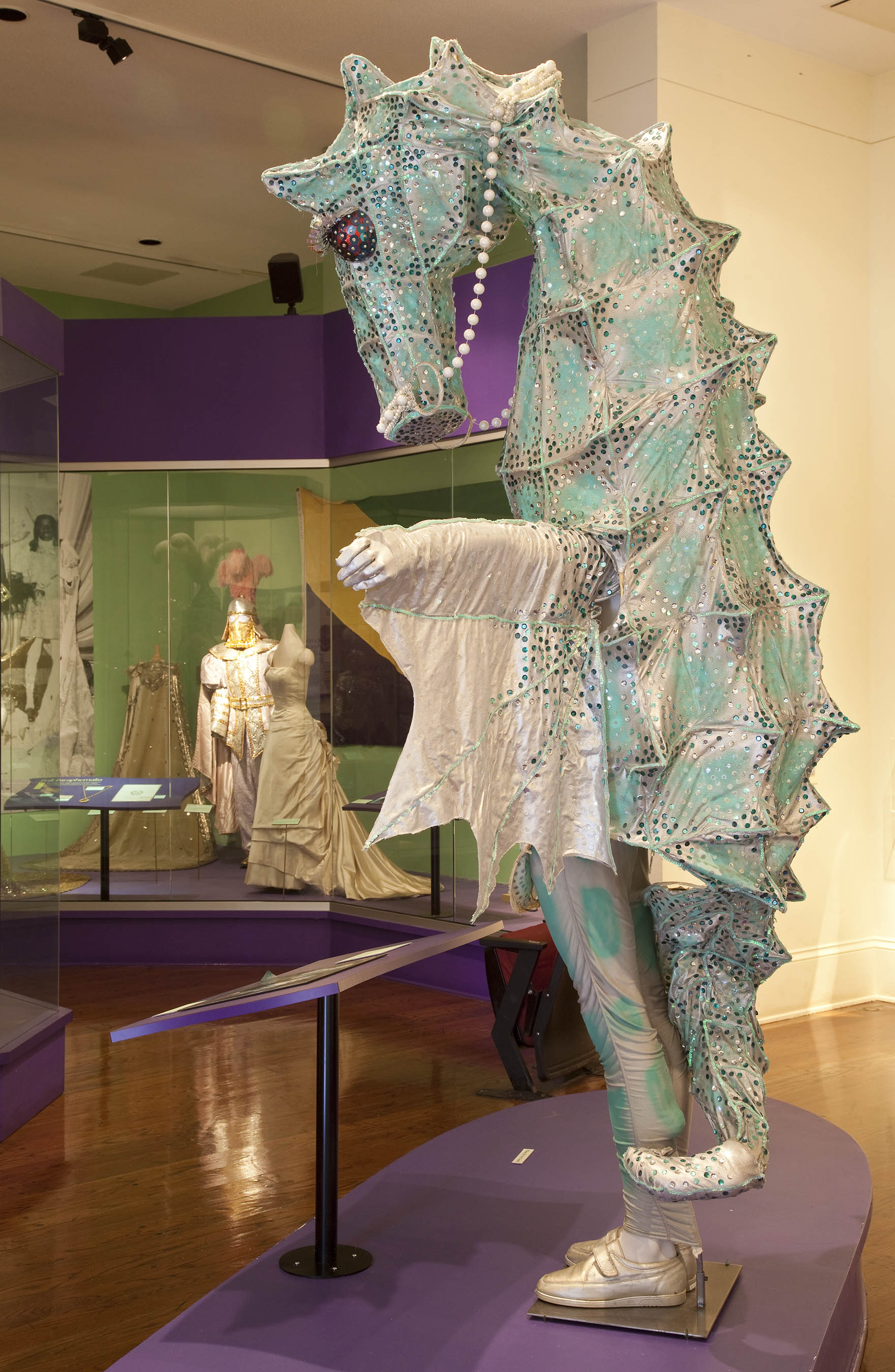 Still More
The more pragmatic aspects of Mardi Gras are addressed in the Making of Mardi Gras display, a section devoted to behind-the-scenes functions such as police protection and sanitation, as well as the Carnival industry, encompassing everything from formal wear suppliers to bead manufacturers to bakeries specializing in trinket-bearing king cakes.

Mardi Gras: It's Carnival Time in Louisiana is a permanent exhibition at the Presbytère on Jackson Square. 
Mardi Gras: Mystery and History

From the moment visitors enter the Presbytere, they are surrounded by the madcap merriment of Mardi Gras. Watching mischievously over the entry foyer is a pair of jesters, perched atop an elaborate sculpture of symbols associated with Carnival. In the adjacent introductory gallery, "mystery objects" fade in and out of view, harbingers of marvelous revelations to come.

Built upon a European foundation, Mardi Gras is a multicultural festival that also reflects Louisiana's African and Caribbean connections. Although Carnival's modern roots can be traced to twelfth-century Rome, it is believed that the medieval pre-Lenten celebration descended from the fertility rituals and seasonal events associated with earlier cultures. The exhibition compares ancient practices - animal sacrifice, masquerade, feasting - to contemporary traditions such as the boeuf gras (fatted calf), masking, and spirited Courir practiced in rural Louisiana.

Although there is scant evidence of Carnival during the early 1700s, by 1781 it was established enough for Spanish colonial authorities to forbid free people of color and slaves to mask or mimic whites during the Carnival season. By the late nineteenth century, however, public masquerade balls and street processionals had evolved into a complex structure of social activities. These changes occurred as a result of public outcry over the prevalence of disorderly conduct during the antebellum era. In 1857 a new organization, the Mistick Krewe of Comus, emerged to transform the holiday. Costumed as "The Demon Actors in Milton's Paradise Lost" Comus members presented a dignified nighttime street procession followed by a private ball at the Gaiety Theatre. The aura of mystery and surprise associated with krewes to this day was conceived by Comus, which is represented in the exhibition by several extremely rare artifacts including a feathered duck helmet from 1908 and a parure (set of jewelry) from 1893.

Within fifteen years two more krewes - Twelfth Night Revelers and Rex - were born. The latter organization, which achieved prominence by billing its monarchs as the king and queen of Carnival, established a precedent by introducing a daytime parade. A huge display containing costumes and jewelry from the late 1800s shows the splendor and imagination of the first Rex celebrations.
Mardi Gras Balls

Splendid regalia, elegant gowns, and stylish mementos depict a more exclusive realm of Carnival: balls. Today's balls vary in scope, extravagance, and level of formality but many still feature vestiges of the earliest celebrations, inspired by Creole bals du roi (king parties). Celebrated on Twelfth Night (the January 6 holy day commemorating the visit of the Magi to the infant Jesus) bals du roi featured a special cake containing a hidden bean or nut. Since 1871 the Twelfth Night Revelers have followed the same ritual: the woman receiving the bean is named queen while the krewe's male potentate, the Lord of Misrule, is designated beforehand.

Although masquerade balls were popular during the colonial period, it was not until the latter half of the nineteenth century that krewes began developing the elaborate protocols and theatrical touches, such as tableaux, that attest to New Orleans' symbiotic relationship with theater and dance.

Lest balls be considered the exclusive domain of the socially prominent, the exhibit describes a broad range of festivities dating back to the mid-nineteenth century. The popularity of risque´ masquerades, also known as French balls, is shown in documents such as a colorful invitation to the ribald fete "Two Well Known Gentlemen." Social events associated with specific groups also emerged at this time. Inspired by the leap year party concept, women began organizing evening events; in 1896 a socially prominent group formed Les Mysterieuses, the first large-scale women's krewe. The late nineteenth century also witnessed the first African-American organization. The most prestigious of these, formed in 1895, continues to this day albeit now splintered into two groups, the Young Men's Illinois Club and the Original Illinois Club. Today's gay balls, illustrated in the fantastic costumes associated with them, prove diversity plays an enduring role in Carnival organizations.
Mardi Gras Parades

For most people, parades, from the extravagant superkrewe productions in New Orleans to the makeshift processions in neighborhoods and small towns, are synonymous with Mardi Gras. With themes drawn from myth, legend, popular culture, politics, and other sources, parades are designed to entertain, amuse, awe, and inspire viewers.

The earliest parades were impromptu processions formed by maskers already in the streets. By the 1830s, young Creole men began organizing informal processions. The model for today's parades appeared in 1857 when the Mystick Krewe of Comus introduced the concept of a formally structured spectacle performed by its members for public viewing.

In the Parades Gallery, visitors can experience the excitement of watching a parade or the exhilaration of riding a float by climbing aboard a huge, interactive display created by Blaine Kern. A number of costumes, including one worn in 1991 by Zulu's Big Shot and Bacchus regalia sported by Harry Connick, Jr. in 1993, show the scope and variety of parades as well as the many roles played by participants. Terms such as boeuf gras and flambeaux are demystified through examples and artifacts.
Mardi Gras: The Power Of The Mask

Although costumes and masks are essential elements of rituals and festivals the world over, in New Orleans, disguise has special significance. To "mask" connotes transformation - a new face and attire allows an individual to transcend everyday life, escape the prosaic, and immerse him- or herself in the magic and power of Mardi Gras.

A gallery devoted to masking illustrates how this phenomenon manifests itself in various cultural groups. Although disguise was associated with Carnival early on, attempts to selectively restrict and discourage it lasted well into the twentieth century. Historical documents reveal officials believed political unrest and slave rebellion would result from the anonymity afforded by masking. And, despite the fact that costuming was an essential element of organized activities by the late 1900s, street masking was frowned upon for adults, especially women. In 1889, a tabloid charged "there was a degree of immodesty exhibited by nearly all the female masqueraders on the streets."

The Mardi Gras Indians, a group whose exact origins are unknown, are represented through an extraordinary selection of "suits"- magnificent beaded and feathered creations exhibited along with a video of members describing and demonstrating the unique movements and chants associated with individual tribes.

Historic photographs and memorabilia trace the most common form of "unofficial" merrymaking: street masking. Groups such as the Baby Dolls, Bucketmen, Skeletons, and Monkeys are profiled here. Contests such as the Bourbon Street Awards are reflected in fantastic costumes like the twinkle-lighted Merlin.
Courir du Mardi Gras

Customs practiced in rural Louisiana, explored through artifacts, documentary film, and photographs, provide compelling evidence of Carnival's medieval roots. Figures such as the archetypal "straw man," costume elements like the capuchon, and ritualistic activities - clowning, begging, gender and role reversal, mock flagellation - resemble rites associated with village festivals of twelfth-century Europe. The courir (run), a seemingly chaotic quest to obtain ingredients for a communal gumbo, actually involves a complex system of rules. Characteristics of activities specific to individual rural communities can be linked to the French f´ête de la quémande, wherein disguised revelers visited countryside households, performing for offerings; other European-derived customs such as belsnickling and mumming; and certain Afro-Caribbean traditions. Because courirs historically have taken place in isolated areas where illiteracy was prevalent, the historical record is sketchy. The exhibition does, however, contain rare photographs and oral evidence of early twentieth-century activities. Encased in this gallery are two costumes, discovered in a house in New Roads, that date from around 1910.